Strictly speaking, not related to learning Welsh, but I can't resist it…
50 years ago today this fantastic song was released, and I can still remember hearing it being played constantly on the radio then.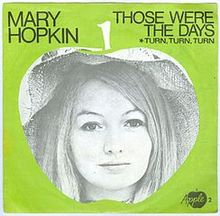 "Those Were The Days" by Mary Hopkin, one of the songs released that day to launch the new Apple record label.
And the only Welsh song that I happen to have on CD is "Y Blodyn Gwyn" by this great singer from Pontardawe.