Missed you both! Hope to see you soon. Hwyl, Peter
The next Llon-dain is planned for Sunday the third April. Route to be decided but will probably be along the South Bank of the Thames from about Waterloo to the east. More information to come. @Deborah-SSi
I'll definitely try and attend this Peter and will stay tuned for further information. Kind regards.
Noswaith dda Peter, please can I ask what distance the Llon-dain walks tend to be? Diolch.
It varies but I don't think we have done more than five miles and, perhaps, four is more usual. Would that be a problem?
I'd say we normally walk about an hour and a half at a fairly gentle pace!
The Llon-dain route for Sunday the 3rd Ebrill at 2.00pm will be from Waterloo station (meet under the clock) along the river to Rotherhithe where, if there is room, we can finish in the oldest pub on the river Thames. Look forward to seeing you all. Here is the map;-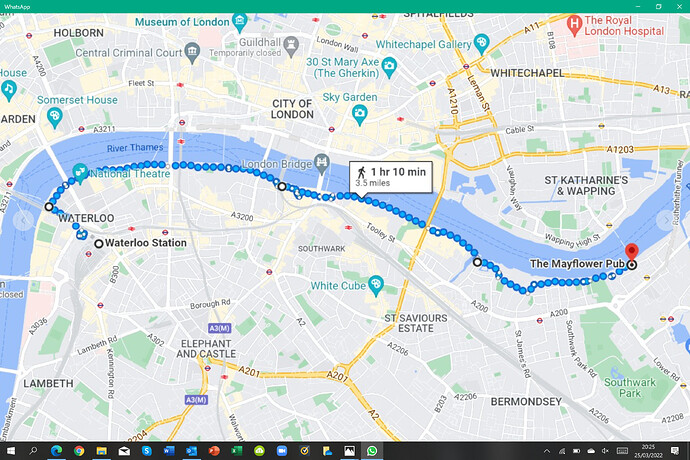 @Deborah-SSi
No, that would be doable distance for me. I can't make this weekend but hopefully I can make a future one. I'm in Hampshire so I think it's the most local face to face meeting to me.
Okay, keep Llon-dain on your watch list on the forum. Hwyl.
I'm running in a 10k race in Horsham that morning but will hopefully be back home in time to get showered and changed then up to Waterloo for 2pm! Ironically byddai'n gyrru i ogledd Cymru (Dyserth, ar bois Prestatyn) y bore nesaf!
Wow, I am impressed!! It would be great to see you on the walk though I don't think I will join you for the 10k raise in the morning!!
Reminder for all coming on the walk tomorrow that we will be meeting under the clock in Waterloo station at 2.00pm. If you are coming and will be late or can't find us then post a message on the forum and I will check it on my phone. Diolch.
Thank you very much for organising this today Peter. It was very nice to meet you and the others and I look forward to meeting all or some of you again on another walk and at the London Welsh Centre speaking group at some point in the future. Best wishes.
Glad to see you had a good time. Sorry I missed you. I went to Welsh chapel this morning and it ran much later than expected. They were so lovely, I couldn't get away! First time hearing a service in Welsh. Wow!
Which chapel did you go to?
Welsh Congregational Church in South Harrow, Peter. I discovered it during lockdown, but it was closed then. I finally plucked up the courage to go along. I live nearby, in North Harrow, so am thrilled to discover a local community of Welsh people
Great to see everyone and hope to see you next time Simon!
We hope to make a trip to the London Welsh one Thursday evening after Easter for the cylch siarad (Covid scuppered our plans last month) and will post here when we fix on a date.
Kate
Not a London walk, but a few of us are planning to go to the Cylch Siarad at the London Welsh centre on Thursday (Apr 28) if anyone fancies it.
We'll be there from 7pm
Mae lle diddorol a mae'r pobl yn neis, ond mae'n well gyda fi cerdded, sgwrsio ac yfed. Hefyd, dw i'n brysur nos Iau yn barod. Mwynha'r nos, Kate.