Rhag ofn bo chi ddim wedi gweld hyn - In case you haven't seen this:
Mae'n edrych yn dda, diolch.
I can't make it but v sorry because Mererid is a great speaker!
For our next Llon-dain we are going back to Hampstead Heath meeting at the Lido cafe which is at the bottom right hand corner closest to Gospel Oak station. The date is Sunday the 22nd May and we will be meeting at 2.00pm. We normally have a gentle stroll for up to two hours and end up in a pub. Everyone welcome and the sun will be shining brightly! @Deborah-SSi
Bydda i'n teithio yn nôl o wyliau yn Wrecsam.

Mwynhewch!
For all those avid readers of Deborah's excellent weekly emails to SSiW followers I thought I should point out that the Llon-dain on 22nd May will be starting at 2.00pm not 10.00am. @Deborah-SSi For those who don't know the signficance of the name Llon-dain, it is a pun on Llundain with Llon meaning happy or contented, so we have a happy walk in London.
Oh, mae'n ddrwg 'da fi! Sori! I'm not sure how I did that … maybe half my brain was still in Australia

Helo Peter, Fydd y llwybr yn gylchol? Fydd y dafarn ger Gospel Oak neu orsaf arall? Oes map y daith gerdded eto? Byddai'n ceisio dod ond dw i ddim yn sicr ar hyn o bryd.
Hi Elizabeth, we haven't got a plan of where to walk yet but it will be a circular one around the heath. The last time we started at the Gospel Oak end and went to a pub next to the station when we finished. Normally we walk for up to two hours but not longer. Would be really great to see you there if you can make it.
Hi Peter, Thanks for the information. The Overground is running from Highbury & Islington to Gospel Oak on Sunday so I intend to be there.
PLEASE NOTE:
TFL has just sent their weekly email. There will be no trains on Sunday between Barking and Gospel Oak.
Hello Peter: not so sure if I can make this one, but have noted start place and time in case I can. Nice to meet you recently at the London Welsh Centre by the way.
Best regards.
Be great to see you if you can make it. It was an interesting evening at the LWC, enjoyable though with great company.
Diolch yn fawr iawn i Peter a phawb am amser ardderchog a ĺlawer o hwyl ar Hampstead Heath ( Rhos Hampstead?) y prynhawn 'ma. Edrychaf ymlaen at y daith gerdded nesaf. Gobeithio bydda i ar gael.
Cofion cynnes i bawb, Elizabeth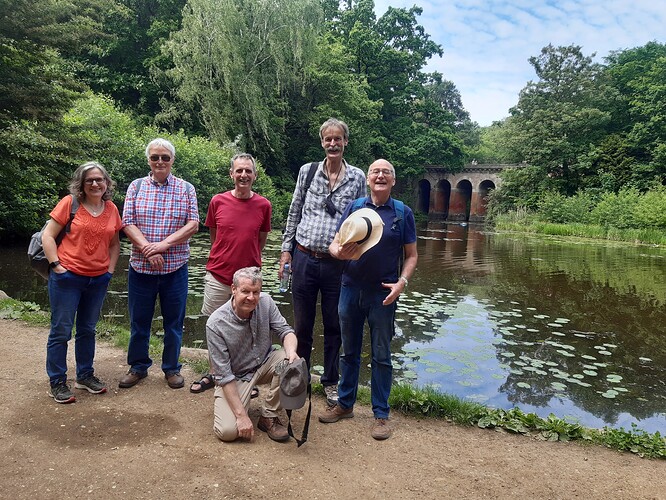 And very relaxed you all look too!
Schmae Pawb,
I am beginning to get disillusioned about my Welsh as I have never had anyone to practice with. I have just finished level 2 (southern)
I am very unreliable due to my arthritis, so need a person or group of people to meet up with to speak Welsh with who can put up with my inconssistancies.
I cannot walk or travel far, so a walking tour is not really good for me, but a meet up would be nice. I live in South East London (camberwell).
Are there any more of these London walks planned? I would love to join as a relatively new Welsh learner. I live in West London.
Hi, I have been a bit lazy on this one but we should be doing something in August. Can you make sure you follow this thread so that you get the notifications (if you are not already). Looking forward to speaking Welsh with you at the next one. Hwyl, Peter.