That's a real shame, it would have been good to see you again. Anyway, plenty more in the future. Hwyl.
Hi, a reminder that the next Llon-dain is on Sunday 10th October. We will be meeting at the lido cafe in the south east corner of Hampstead Heath at 2.00pm. The nearest station is Gospel Oak but there are others not too far away too eg Kentish Town. Look forward to seeing those who can make it. Hwyl. @Deborah-SSi
Sorry, Peter. I was really looking forward to it but a an elderly friend has to go into hospital on Monday for a couple of weeks or so and there is no-one else to look after his very elderly cat. So, I am collecting her on Sunday to foster her for the duration. I need to be with her to help her settle. Hopefully you will organise another walk soon in North London and I shall be able to come. Enjoy yourselves.
Will put some pictures up so you can feel that you were almost there! Hope everything goes okay with the fostering and your friend recovers quickly. Cheers.
Really enjoyed the sgwrs and the walk on the heath, Peter. Diolch yn fawr! Wela i ti nes ymlaen!
Great to have been on the walk with everyone and to see the view of London from Hampstead Heath. Another Llon-dain soon.
Are there any meet-up happening in South East London any time soon?
The next Llon-dain is likely to be in South East London but we haven't decided yet. If you set this topic to 'watching' then you will be able to see updates if not done so already. Any ideas where in SE London - generally we want to keep reasonably close to the centre and public transport.
The boroughs of Soutwark, Lewisham and Lambeth all have good transport links by tube, overgroud and bus. There are loads of parks with cafe's to meet as well as cafe's wine bars and of course pubs.
The next Llon-dain will be on Sunday the 28th November at 2.00pm. It will include Hyde Park but exact route has not been decided yet. More details to come. @Deborah-SSi
Gwych! I'll watch for the details and get it in next week's newsletter. Today's has already been uploaded

Sorry, Peter. I'll be celebrating my granddaughter's 21st with he that afternoon. Have a great walk. Elizabeth
Enjoy her 21st, big milestone. We will be thinking of you and hope to see you soon.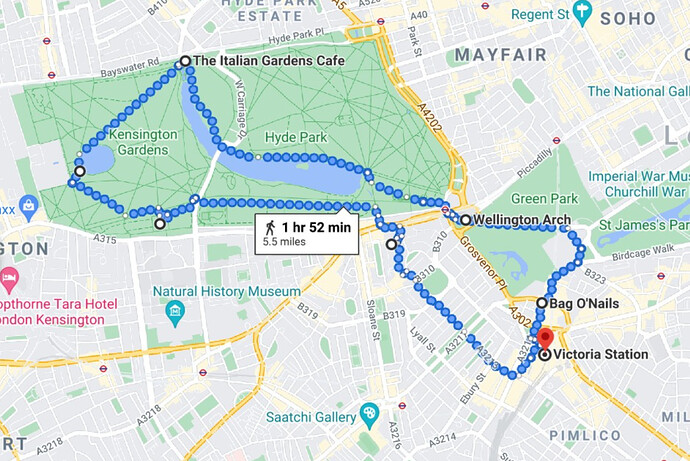 The likely Llon-dain walk is attached. This route is to 'start' at Victoria then a walk through Belgravia, then over to the Albert Memorial, a look at Kensington Gardens, a stroll by the lake, a stop at the Wellington Arch before passing Buckingham Palace and finding a pub near Victoria. Some of us will start at Victoria but people can join anywhere along the route though I need to know if that is what you will be doing. On the day I will keep an eye on this thread on the Forum just in case someone is looking for us. I will post an update nearer the day. @Deborah-SSi
Excellent, I have nothing in my diary for that day so barring anything unfortunate happening I'll definitely be able to make this one!

I would love to attend please. Di Matthews
Brilliant Di, will you be joining at Victoria Station or somewhere on the way?
Would love to be able to come, but unfortunately due to my arthritis I cannot walk long distances. Hopefully there will be an event with no walking at some stage?
Okay, keep Llon-dain on your 'Watching' list. It normally is a walk but we may occasionally choose a sitting down event. Hwyl.
In come in at St Pancras so Victoria is fine as I can use underground to get there David. Are you on WSP?