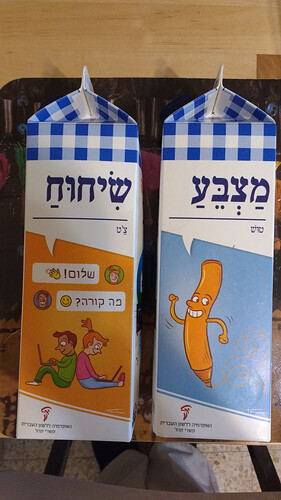 Last month in Israel, a common brand of milk cartons started to bear 'correct' terms in Hebrew for things that are nearly always referred to by a foreign 'slang' term.
In the photo here, the carton on the left is referring to "chat" (as in digital social media). The word in large bold letters at top has the Hebrew word, which would sound rather like "Suchw-ach" read as a Welsh word. Just below the line at the top, in small print, is the slang word "chat" pronounced as in English.
Similarly, on the right is a marker pen. The Hebrew word for this is "Matz-bay-ah" as read in English, but everyone uses the word "Tusch" which is a German word for a type of coloured ink.
The point of the campaign was to encourage use of Hebrew words where foreign ones are normally substituted in day-to-day speech. A total of about half a dozen words found their way onto the milk cartons. They would have been seen by a large proportion of the population.
Without wishing to re-ignite the question of the rights and wrongs of English words creeping into Welsh, it did occur to me that this could be a rather friendly way of encouraging use of one's national language without being patronising.
In Wales, which has the greater problem of not enough people using their language anyway, maybe something similar could be done to encourage the use of Welsh? Place a few Welsh words on the wrappings of common foodstuffs and they find their way into hundreds of thousands of kitchens in Wales. Just another way of exposure to the language.