Cadell Ednyfed, is what generated for me.
My internet alias generated "Trahaern ap Caradog Fawr."
My real name generated "Selyf Goch".
Hehe, I saw this on the Facebook, one of my friends doing it …
Will try later and edit this post …
EDIT
OK, here we go …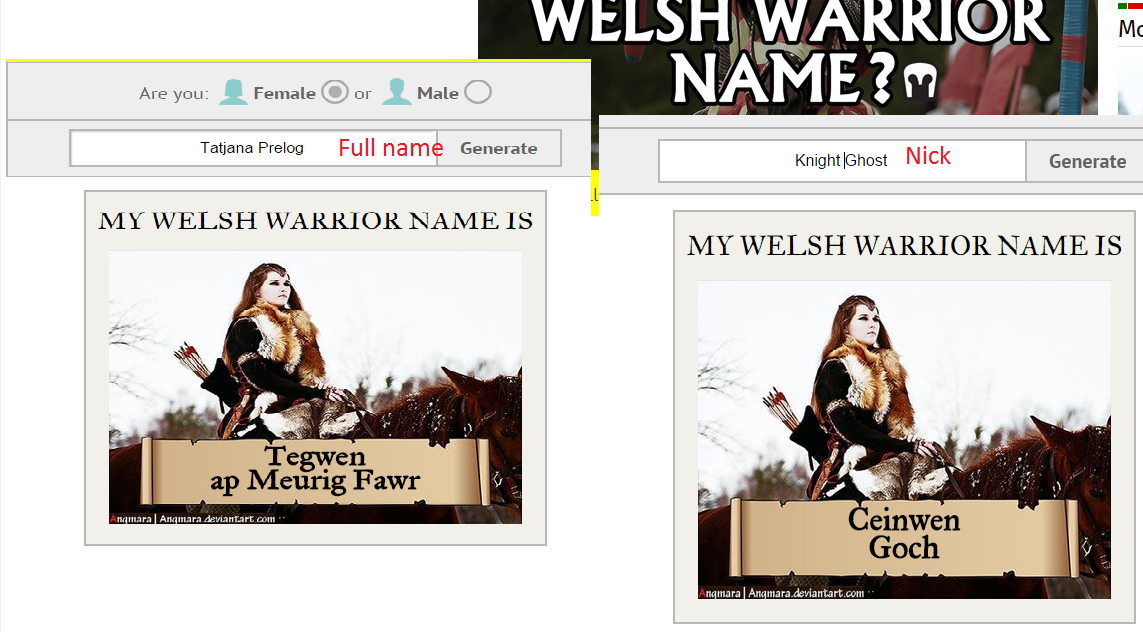 Well, I had to split my nick name into two parts otherwise it was not recognized and I got nothing.

'Maelgwn Gwrgant' for my full name.
'Madog Ddu' for Mick Davies.
It gave me 'Sioned ap Idwal', sounds far more interesting than my real name!

Maelgwn ap Ednyfed Fawr,
or with "Michael" instead of "Mike":
Maredudd ap Ednyfed Fawr.
Think I prefer the latter.
That's "Syr Maredudd", mind…
Gwallter Hen! That almosts translates to "Hair of Old"!!! Hmmm…
Arthfael Gruffydd or after gender re-assignment Anest Goch.
Oooh I LOVE mine!
Rhianwen Tewdrig
Myfanwy Rhygyferch is my Welsh warrior name!
Rhygyfarch Seisyll. That's my next Skyrim character sorted!
I realize this is an old topic, but it is kind of fun, so I'm reviving it anyway. The name the generator gave me was pretty lame (in my opinion) but I already have a Welsh (warrior) name (an alternative in the Society for Creative Anachronism). It is Sionned ferch Cynan ap Owain.
(And before anyone asks - yes, I realize Sionned is not spelled "correctly" - but that's the way I've had it since before I actually started learing the language.)
I wouldn't say that was necessarily wrong! Though Welsh has always been basically phonetically spelled, the rules have changed over the years and the doubling of consonants was often more common in the past. Here's a couple of Sionned's spelled with two 'n's from poems by Tudur Aled and Ieuan Tew.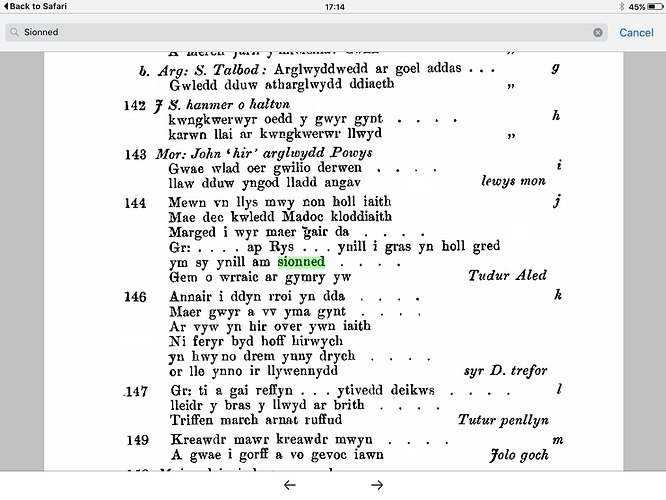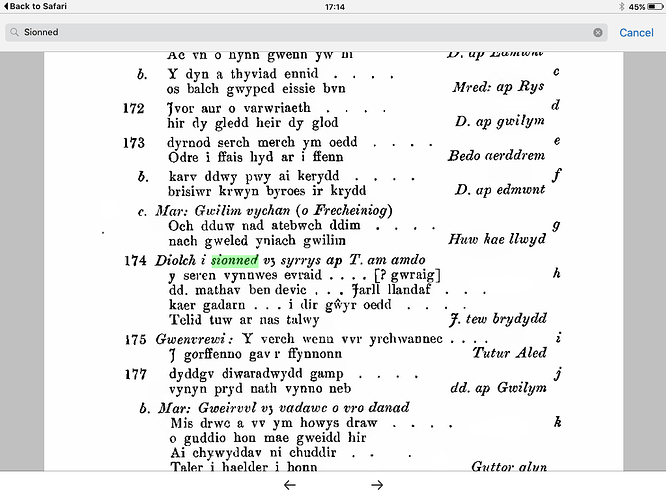 Thanks, Owain! That's great!
You're welcome!
Mmm… Gwenfrywi ap Caradog? Shouldn't that be 'ferch Caradog'?
Oh, I was Gwellian the first time I tried, but I forgot the last bit, so tried again! Only found this thread today!
Cynan Bleddyn
Mine's Myfanwy Glodrydd. I've always LOVED the name Myfanwy, but I'm not sure about "Glodrydd." Anyone have any idea what that might mean or refer to?
Credit as in praise, Free as in not needing to pay… I'd guess "deserving praise"! Clearly the perfect name for you!!