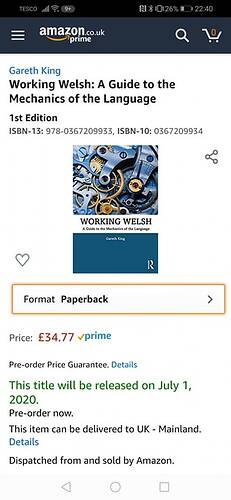 I like the cover!
And it also seems cheaper than the average grammar/language books which is also good.
Can't wait to read it - it looks like something I'll definitely enjoy

Oh I'm pretty sure you will - I did!

I'm pleased with it as well!

Just re-iterating my responses to this thread so far, as y'do:

Can't wait to get my copy!!
@CatrinLliarJones

At the risk of getting a somewhat biased answer… is it a good book and should I buy it?

I think you have just asked two questions to which you already know the answers, Stephen

Also, we're doing a special promotion, which you might like to consider taking advantage of:
Buy one copy at just double the price, and get a second copy ABSOLUTELY FREE!


Now that's an offer not to be sniffed at! One copy for the week, and one for Sunday best!


As it has yet to be published, we don't know and we won't until 1st July.
However, as it's not a financial product but a GK publication, I feel quite safe to ignore the usual caveat about past performance not being an indicator of future success; so much so that I have pre-ordered a copy.


I am disappointed to have jumped the gun and missed the special promotion.

Thank you, noble and gallant Sir Steak!

Looking forward to getting this to add to my GK collection! Just checked Amazon in the US and I can preorder it there. They don't have the promotion going, unfortunately

Amazon US really ought to get with the times, oughtn't they?
The promotion? Which promotion?

I don't know (and can't find in the dictionary) what "ought to get with the times" mean, so @garethrking's answer doesn't add any hint!

this one:

It means - in a tongue-in-cheek way - that they seem to be falling behind in modern marketing methods!

Oh, thanks, I had missed a few posts.
However, now I know what it was and what the other sentence mean…hey Amazon Italy gets with the times. Same offer here!