There is going to be an amazing wealth of Welsh and Irish music, plus a series of interesting talks and presentations from the 3rd to the 5th of November centred on the town of Aberteifi (Cardigan) in Ceredigion, west Wales.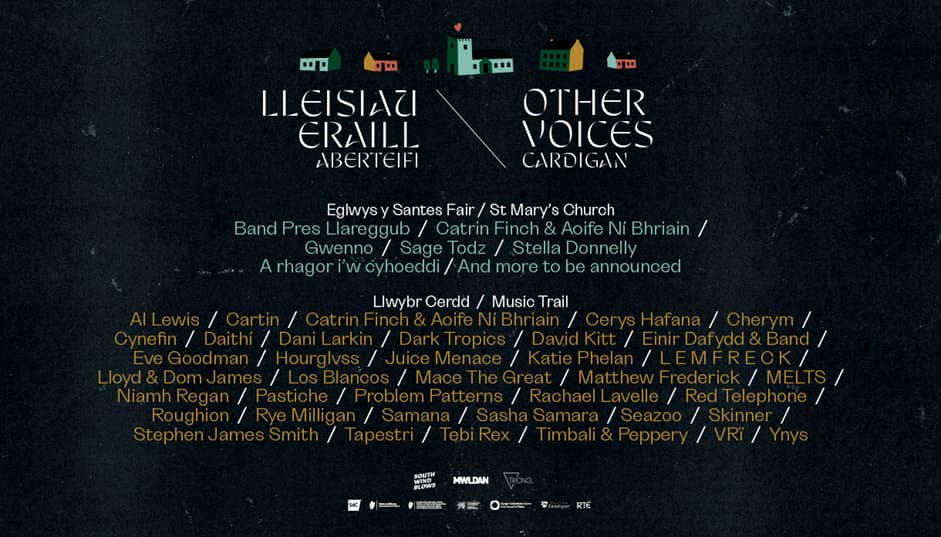 Other Voices Cardigan announces another twenty-eight Music Trail acts, and the first five St Mary's Church Acts are revealed….

ST MARY'S CHURCH:

Catrin Finch and Aoife Ní Bhriain

Gwenno

Band Pres Llareggub / Llareggub Brass Band

Sage Todz

Stella Donnelly

3 - 5 November 2022 / Live & Online from West Wales

Music Trail Wristbands on sale now

Other Voices Cardigan have revealed the first five headline acts performing in St Mary's Church across the three days of the iconic music festival on 3rd – 5th November. The list includes Mercury nominee Gwenno, whose latest acclaimed third album Tresor has been nominated for a Mercury prize, the first non-English language album to receive such recognition.

Joining Gwenno, from Wales and Ireland, will be the virtuosic harp and fiddle duo, Catrin Finch and Aoife Ni Bhriain, revealing their new stunning collaboration to a live public audience for the first time; and Welsh drill artist Sage Todz, performing in both Welsh and English, whose track 'O Hyd' remakes Dafydd Iwan's famous protest song Yma O Hyd and has been adopted by the Football Association of Wales in advance of Wales' journey to the World Cup finals later in November.

"Dani yma yma! Mae'r gwlad ei hun yn fach.

Ond mae'r ddraig yn pwyso tunnell."

("We are here! Our country is small, but the dragon weighs a ton") Sage Todz

The fourth artist announced is Stella Donnelly, the Australian indie rock singer-songwriter who grew up in Wales, to a Welsh mother and Welsh-speaking at school, and whose debut album Beware Of The Dogs was released just before the pandemic to critical acclaim, and followed by her 2022 release Flood.

Our fifth confirmed St Mary's Church act will be the mighty Band Pres Llareggub. Owing to the age-old tradition of brass bands from the slate mining villages of North Wales', Band Pres Llareggub ascend from the ashes of the past and bring with them an immense dose of heavy brass! Their music invokes the sumptuous flavours of New Orleans marching bands, together with Bronx-inspired Hip Hop and Welsh language pop music.

All performances from St Mary's Church will take place in front of a public audience, and will also be streamed globally for free via Other Voices' YouTube and socials. The festival will be hosted by Welsh TV and radio presenter Huw Stephens and presented in partnership between South Wind Blows, Mwldan and Triongl.
There is a lot more information on the musical performances and also on the series of thought-provoking talks that will take place - too much to publish here, so just some tasters:
On the second day of the event, Friday 4 November at 4.15pm, the Rt. Hon Mark Drakeford MS, First Minister of Wales, will make a very special appearance as a guest speaker, joined by the celebrated poet Mererid Hopwood and acclaimed traditional fiddle player/violinist Aoife Ní Bhríain to form a panel hosted by TV and radio broadcaster Huw Stephens, in order to explore the value of culture, creativity and connection, and the identities of people, nations and diasporas.
And a little about the Irish connection:
Ireland's Edge began in 2015, evolving from an ambition to explore Ireland's future in a changing global landscape from a unique vantage point in Dingle, at the very western tip of Ireland. Ireland's Edge promotes the idea that collaboration, discussion, lending and borrowing can build on our collective knowledge, placing culture, creativity and community at the very heart of what we do.

Ireland's Edge highlights:
All the details can be found in these PDF files:
Other Voices Cardigan Headliners Announced.pdf (612.2 KB)
Clebran Programme.pdf (279.0 KB)
Clebran Conversations.pdf (417.2 KB)