Helo Pawb,
Those who've been in shouting distance of me, may know that I've written a novel. The Tides Between is the reason I originally started learning Welsh. I thought finding out a 'little bit' about the language would help my research. Anyway, the novel is being published today. Hwre! And I am also now a Welsh speaker Hwre, hwre! and even louder hwre!
The Tides Between is being published in Australia but it will be available worldwide in Print on Demand and eBook formats (Amazon, iBooks, Kobo, Barnes & Noble, Google play etc.). The paper back will eventually (don't ask why not yet) be available through Book Depository, Fish Pond and a host of other online stores. This means you will be able to buy a print copy online or, alternatively, walk into your local bookshop and order a printed copy, or ten (Christmas is coming, cofiwch!).
Book Details
ISBN: 978-1-925652-22-2 (pbk) | 978-1-925652-23-9 (ebook)
Category: Young Adult / Historical Fiction
Trade paperback: 300 pages
Publication Date: 20 October 2017
RRP: AU $23.95 (pbk) | $5.99 (ebook)
To celebrate the release of The Tides Between, I have persuaded my publisher to offer a discount to the Say Something Welsh Community - 99c for a day!
This will coincide with the weekly newsletter. So, when you open next week's newsletter, follow the link, to purchase a 99 cent copy of The Tides Between.
Unfortunately, we can only offer a discount in the Kindle format, as other outlets don't offer Amazon style one day sales. If you are not keen to buy the book (I'm a librarian so, I'm conflicted by this whole marketing thing), why not ask your local library to purchase a copy? Alternatively, if you are struggling financially and can barely see your way to buying the weekly groceries, PM me and we'll sort something out.
Here are the Amazon links:
https://www.amazon.com/Tides-Between-Elizabeth-Jane-Corbett-ebook/dp/B076KV1QLJ/ref=sr_1_16?ie=UTF8&qid=1508845184&sr=8-16&keywords=the+tides+between
https://www.amazon.co.uk/Tides-Between-Elizabeth-Jane-Corbett-ebook/dp/B076KV1QLJ/ref=sr_1_3?s=books&ie=UTF8&qid=1508845250&sr=1-3&keywords=the+tides+between
It's on sale on Amazon.com.au too. But the link doesn't look as pretty.

https://www.amazon.com.au/d/Tides-Between-Elizabeth-Jane-Corbett-ebook/B076KV1QLJ/ref=sr_1_1?ie=UTF8&qid=1508845298&sr=8-1&keywords=the+tides+between
You can find out more about me and my Welsh language journey on my website: http://elizabethjanecorbett.com
Meanwhile, here is the book blurb and a picture of the cover.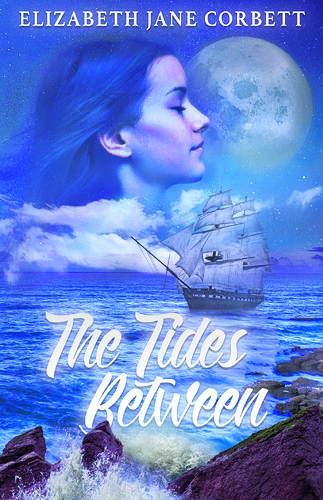 She fancied herself part of a timeless chain, without beginning or end, linked only by the silver strong words of its tellers.
In the year 1841, on the eve of her departure from London, Bridie Stewart's mother demands she forget her dead father and prepare for a sensible, adult life in Port Phillip. Desperate to save her precious childhood memories, fifteen-year-old Bridie is determined to smuggle a notebook filled with her father's fairy-tales to the far side of the world.
When Rhys Bevan, a soft-voiced young storyteller and fellow traveller realises Bridie is hiding something, a magical friendship is born. But Rhys has his own secrets and the words written in Bridie's notebook carry a dark, double meaning.
As they inch towards their destination, Rhys's past returns to haunt him. Bridie grapples with the implications of her dad's final message. The pair take refuge in fairy tales, little expecting the trouble it will cause.