Great to listen Hendrik on Radio Cymru today, well done
Well done @Hendrik!
Seren mawr!!


Here's the link, Hendrik's on about 1:40

Congrats @Hendrik – something we have in common.


Hope you are doing well. I no longer use the Slack app.
Diolch. @beca-brown What are your criteria and are you accepting new submissions? Diolch!
Hi @jenirizio-1! Beca was doing the newsletter for me while I was away in Australia, so I just flagged this post up to her as something to include.
We don't accept 'submissions' as such - just when some very recent event may be of general interest to new Welsh speakers, or something is coming up that they may like to attend, we may put a link to it in the newsletter.
I took time this week to listen to your interview, Hendrik. You sounded great, and not at all nervous. It was fun to hear a clip of you singing with Gwilym Bowen Rhys, since I wasn't able to watch Canu Gyda Fy Arwr here in the U.S.
@Anne-D As it happens I was invited to talk a little bit more about my experience with Canu gyda fy Arwr on the program Prynhawn Da today (well, technically yesterday), and that program is available internationally. Within the segment they're also showing another clip of me and Gwilym jamming Ben Rhys in Parc Fictoria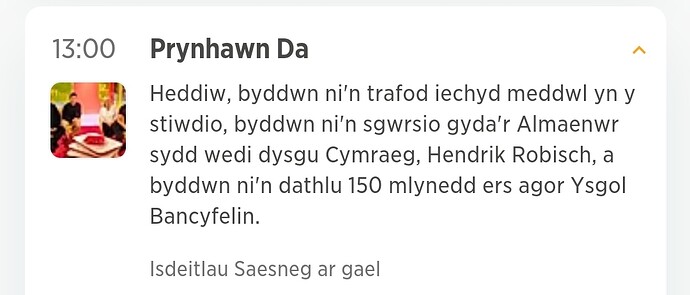 https://www.s4c.cymru/clic/programme/852866387
O, waw! Diolch, Hendrik. I'll take a look tomorrow (=Thursday).
The interview with Hendrik on Prynhawn da starts at about 8:16 minutes into the programme. Da iawn Hendrik! Ti wir yn seren yng Nghymru bellach - you're a real star in Wales now!
And it's obvious how much Gwilym Bowen Rhys enjoyed singing with you in the park!