A quick history for those that don't know - a number of years ago now, an elderly friend living in Australia but full of hiraeth for Cymru, paid to have some high quality stickers made that could be used to show learners where they could practise their Welsh. The idea was that shops and businesses that were "learner friendly" would display the stickers in their window, and that learners would come to recognise them and feel comfortable about trying out their Welsh in those places.
A high quality vinyl removable sticker was designed by @kingskidgirl (who does the artwork for the Online Eisteddfod) and I used the funds from my friend to have them produced. Quite a number of them were sent out to people who requested them through the forum, and I went round talking to shop owners in the area of Cardiff where I lived to see if they were willing to put them in their window. Some were happy to do so, but others said they only had part time staff there and only some could speak Welsh, so they weren't happy to put a sticker in the window in case no Welsh speaker was there when a learner came in, so I ended up getting a bit discouraged.
I still have approximately 250 of the stickers that are sticky on the picture side to go inside a window and show through to the outside, and approximately 620 of the same design but they are sticky on the back. Here's what it looks like: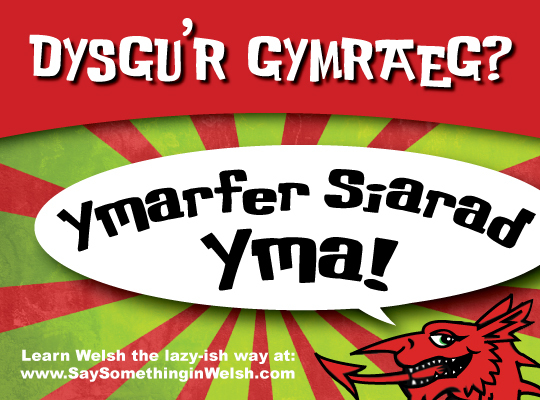 As you can see, it's advertising SSiW at the same time, but that wasn't its primary purpose.
My question now is how can we make best use of these stickers to help with the Million Speakers project?
I've discussed it with @jamesmahoney and we were thinking that perhaps we could have a separate website for shops and businesses that were happy to display the sticker, with the design featured on it, so that it could be used to promote the idea and make it more recognisable.
Then I'm thinking we could try to promote its use by going directly to the Welsh media, e.g. writing an article and sending it to Golwg, Radio Cymru, etc so that awareness is raised about it and shops would be more willing to participate.
Anyway, that's just a few points to start off discussion. Does anyone have any suggestions? Do people think it's worth doing, or should I just put the stickers back in the box under my bed? I won't be offended if that's the consensus, but I'd like to discuss it first