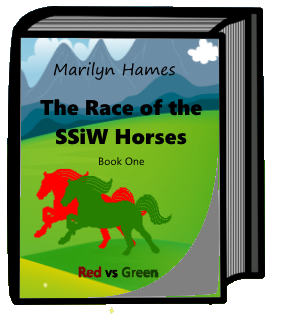 Then let me tell you all a story–about growing up in Wales…
Rhiannon was a really special kid, we all loved her angelic face framed in dark brown curls, and her radiant smile drew your attention away from her awkward rolling gait. She had the sweetest nature. Slow at some things, Rhian' was always first to notice if someone was upset, and would do some little kindness like fetch their milk at the break ('playtime'), or just take their hand and smile.
Once a year, all Cardiff's schools competed in athletics at a huge stadium. My junior school produced some incredible athletes – not much else, but we were tops at sport, and our girls' relay team was unbeatable, with the best sprinters in the city at that time.
Like most of us, Rhian' was normally a spectator, but one sports day she showed up in shorts wanting to run in a race, oblivious of all the heats beforehand. Maybe it was her earnestness or winning smile, but to our astonishment she was escorted onto the field and placed at the last handover spot for the relay final.
When the starting gun went, our #1 sprinter shot forward and left the others in the dust. Same for our next two runners who built up such a lead that all Rhian' had to do was trot to the finish. The stadium fell silent as our rivals closed the gap, then with just feet to go a huge gasp went up as the only one who might have beaten Rhian' tripped and dropped her baton. Sensing a problem, Rhian' turned, helped her up, gave her our baton and led her by the hand to the finish. Disqualified, we drew for last place – no podium or pretty ribbon for Rhian',… or so we thought.
At the closing ceremony the entire relay team, including the girl who had given up her place for Rhian' to run was awarded special medals for their fine spirit – it was just great!
---
Friends, as a novice in terms of learning Welsh, part of my motive in studying the language is to connect with roots buried deep in my psyche and soul–having grown up in Wales, but emigrated to Canada in my 20s. So far I have completed Gwers 20 and Challenge 20 (and my imaginary horse-race between these two formats is described under 'What am I hearing, or missing…' )
Last night, Tatjana created the book cover above for this imaginary race, suggesting I record whatever I like in it. Others on this forum have also encouraged my to tell some stories, so while I cannot tackle them in Welsh yet, I thought I would start in English and gradually morph into Welsh. To begin this saga, I decided to share a story from my schooldays–a story about a race of a different sort–a race that my 'best friend' who had suffered polio took part in–and won a lot of hearts. I hope you liked it.
This story book in the making is for you all to enjoy (I hope) and contribute to (please). I already asked for anecdotes and stories under yet another topic 'Crepe paper daffodils, leeks…' but am still searching for a title that will be a catch-all for these memories, assuming we want to preserve and develop a culture and a way of life as well as the Welsh language.
Fingers crossed you will share some thoughts, no matter what, and toes crossed that those of you who are clever enough to copy stories from elsewhere on the forum can add them here too, no matter when they were written.
Lastly, Tatjana thank you for showing me how to copy the horse-racing title-page here to help this project along, because I dedicate this to you and to everyone on this forum who so generously helps others with advice, encouragement and yes, stories of your own.
Diolch yn fawr iawn,
Marilyn