Back in February of 2017 I started this thread, sharing with you the first steps of my journey to becoming a published writer and you were all so very generous with your words and support - diolch.

I began the thread with the news that I'd had a short story published and had just been commissioned to write a novel. Just over three years later and my novel is working its way through the printing press as I type!
From learning how to become a writer, to learning how to start believing in myself, to having to go through the Welsh Books Council's approval panel, twice, to having the whole Welsh publishing world grind to a halt because of the pandemic and to having my book launch at The Galeri cancelled, it's been quite an emotional journey. But a journey I'm so grateful for - I feel so privileged.
I still find it hard to believe, even now that the novel is almost in my hands, that I may just have a little author potential.
My eternal thanks to Marred Glynn Jones from Gwasg y Bwthyn publishers in Caernarfon for seeing in me what I couldn't quite see myself and for believing in me. To Aran for putting up with the emotional rollercoaster that I am and for his unfaltering support. To Manon Steffan Ros and Bethan Gwanas for their guidance, for being so inspirational and for welcoming me with open arms into their world.
So, here I am blatantly drumming up an audience, because small Welsh publishers don't have advertising budgets or marketing officers. Therefore it's mostly up to the author to put themselves out there, lights flashing, horns blaring and banners waving. So under instructions from Marred, here I go…
Adar o'r Unlliw will be on the shelves in shops in August! It's also available for pre order from some online retailers!
Here's the cover designed by Olwen Fowler and including quotes from Manon Steffan Ros and Ruth Jones from Gavin and Stacey!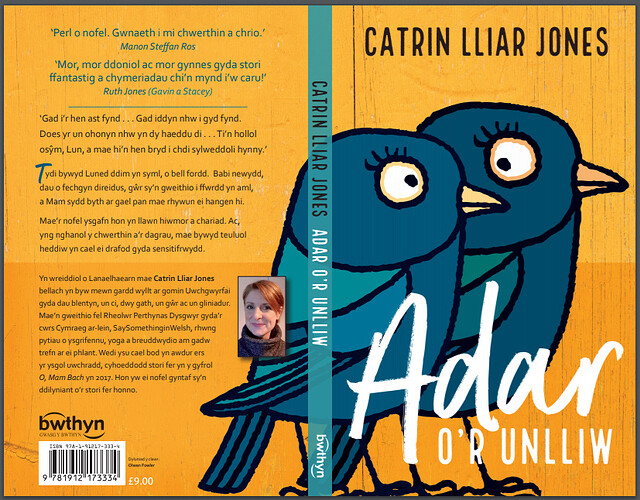 Here's what Geraint @gruntius (who had a sneaky preview) had to say about Adar o'r unlliw -
Diolch o waleod calon / thank you from the bottom of my heart to everyone who has pre-ordered! As promised there will be a full vocabulary list available soon to all who wish to attempt to read it - watch this space!