I'm trying to translate a few words besides those in the Challenges (English to Welsh) - but also to understand in the Challenges vocabulary what means what exactly (Welsh to English), so that I can use it in different sentences.
Results are often quite confusing so far. I wonder if anybody has a few tips to share.
For example, Welsh to English, one simple (maybe not?) word that I saw many times but seem to be used in different ways: "mae".
I found a dictionary on the University of Wales Trinity Saint David. Unfortunately in most searches (including this one) I end up with "no matches" as result.
We mentioned pros and cons of Google translate before, but it's worth a try (true, especially with longer sentences but let's see what I get here).
Welsh to Italian: "ci" (as in "to us")
Welsh to English: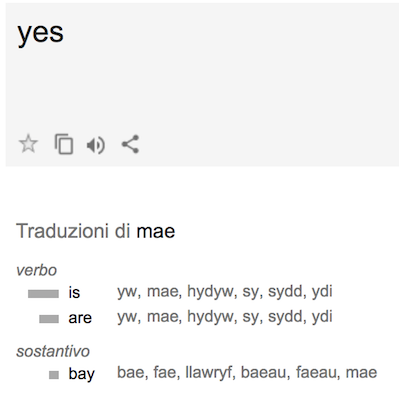 I don't really trust it, so I try one more, Geiriadur Prifysgol Cymru:


Uhm! What now?


p.s. in any case, I chuckled seeing that among results there's also…a pig and a robin!