Many apologies dear friends, but I won't be rewarding badges this week. Don't worry though, it's not you, it's me.

We've had an epic week here at the Jones household and for the first time since lockdown, I've failed to put sufficient time to one side, in order to sit down and reward you with your coloured badges.
Don't worry, though, I will be here on Monday rewarding each and every one of you with your badges.
You have all worked so very hard on your Speaking Practice tasks and continue to do so with so much gusto, so thank you.
Congratulations to all of you for getting this far and all the best with the next task.
Badges coming on Monday!!!
I've been doing the Southern course https://soundcloud.com/lydia-niziblian/five-sentences
OH MY GOD I feel a total amateur. Most people are using tons of words I do not know yet. I know most I've listened to must be doing the North course as there are lots I don't understand. I'd be really grateful if anyone can listen (I know I can't) to mine and see where I'm going wrong - it's super basic comparatively.
You're pronunciation is excellent, your sentences are excellent - and the selection demonstrates great understanding of the tenses within the sentences - no wobbling or wavering - it is as good as any I've heard.


So…cario ymlaen, cario ymlaen (carry on!) I can only imagine your frustration is because you want to be able to say even more - and that is entirely natural!
Rich

Hope the following links have sufficient information to help you, Kay -
Congratulations to everyone who've completed their 'Pink to Red' Speaking Practice challenge over the last two weeks - you now have your RED badges! Well done!
Hi Arran, sadly I am unable to record on soundcloud. I cant see an option. Is there another way to complete the sentences please?
Hi @AndrewR
Are you using a phone or a computer?
Rich

So sorry to hear that you're having difficulties. If you have a look at the following message, you may find information/tips to help you navigate SoundCloud. Best of luck and let us know if you get stuck again.

Hi @AndrewR
You can record on Voice Recorder on PC - then upload to Sound Cloud.
In the search bar on windows - if you start typing Voice Recorder it will appear as an option you can choose. See image below.
I can post a Step by Step guide to get it to Sound Cloud if this will help - let me know.
Rich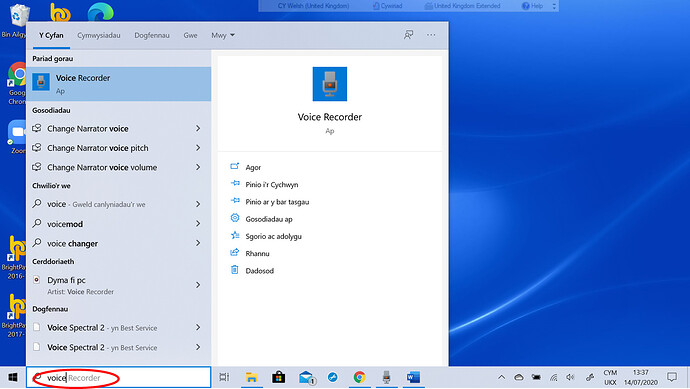 Find Voice Recorder on your PC…you can do this by starting to type the name in the windows search bar…and start the application…
.

.
You can record a file by pressing the microphone to both start and stop the recording. Personally I would rename it for ease of identification when loading it into Sound Cloud…by right clicking on the default name (Recording I think)…
.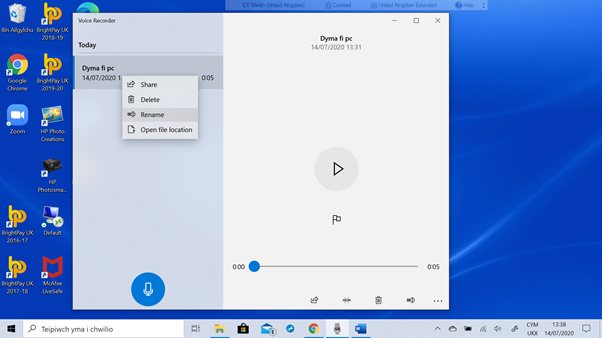 .
Before you switch to Sound Cloud just have a quick check of where the file has been saved by looking at the file location…
.
.
…just make a mental note of it for loading into Sound Cloud…
.
.
Go to Sound Cloud and Click the Upload option at the top…
.
.
…navigate to the file you've just recorded and upload it…
.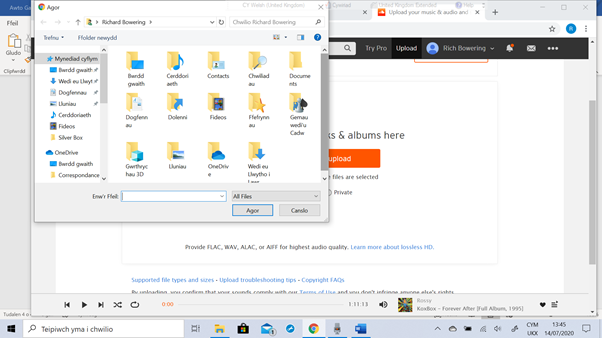 .
…then save it in Sound Cloud…
.
.
Sound Cloud then shows a screen where you can copy and paste a link…(right click on it - select copy)
.
.
Go to the forum - reply to a post or create a new one so the editor is open - and past the link…
.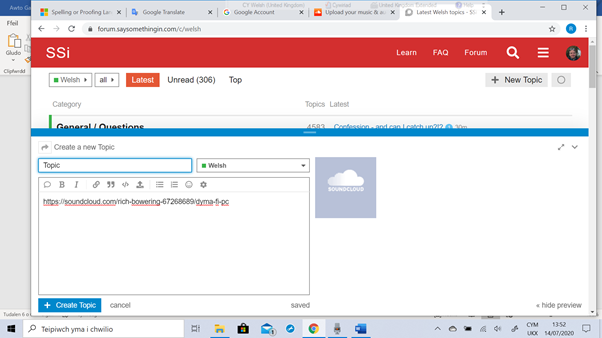 .
Rich

Hey thanks for the response Rich. I have quickly tried the voice recorder and it works fine. I will work through the sentences, record them, save to a file and then try upload them to sound cloud. Fingers crossed.
All the best
Andrew
A post was merged into an existing topic: The '5 Minutes' Test Going Pink

well I'm afraid that Soundcloud on my iphone looks nothing like the one in the instructions…and having read all the hassles with it and wrestled with it for ages I am now deleting it and will forgo that poart of the learning process!
Hi,
I still can't record on Soundcloud there is no option to record even when following your clear directions so after numerous attempts I am having to give up sorry
Kay
Sorry for everyone having trouble with Soudcloud. I can imagine it's frustrating. Unfortunately there's nothing we can do to control how SoundCloud works. But our tech department is working on something which would skip the need for SSiWers to be using SoundCloud to record. We'll let you know as soon as it's ready.

Otherwise if you guys want to listen to each other saying your sentences over Skype/Zoom/Phonecall, I'm happy for this to be an alternative solution to your soundcloud recording.

I can't find a recording in your link unfortunately, Kate. But I'll give you your red badge anyway.