Calling all fellow 'crafty' people…
I've read here that some folk learn better by doing something else at the same time as going through the lessons, and I recall that being suggested as a good strategy by Aran or Iestyn—both to 'make time' as well as avoid anxiety or perfectionism while learning.
Like many here, I have tackled lessons a variety of ways: glued to my favourite comfy chair with a nice view—concentrating like crazy; wandering in the woods with my MP3 player—talking to the trees, the squirrels and birds, even the osccasional startled runner; while cooking, knitting and painting—just saying the first thing that came into my head without a spare hand to press the pause button. I would never try while driving because you need your wits about you driving in Vancouver—at least I do.
Then I came across an old thread here where someone said they tended to lose concentration or start to feel bored about 15 minutes into a lesson unless they did something else at the same time—crafting. They wondered if they should post what they had crafted. What a great idea! Why not?
Always assuming I can figure out how to add a photo here, I will now try to post a watercolour I did while SSiW was batting around those little grey cells. The combo' was perfect—doing something relaxing with my hands and eyes while letting sounds just happen…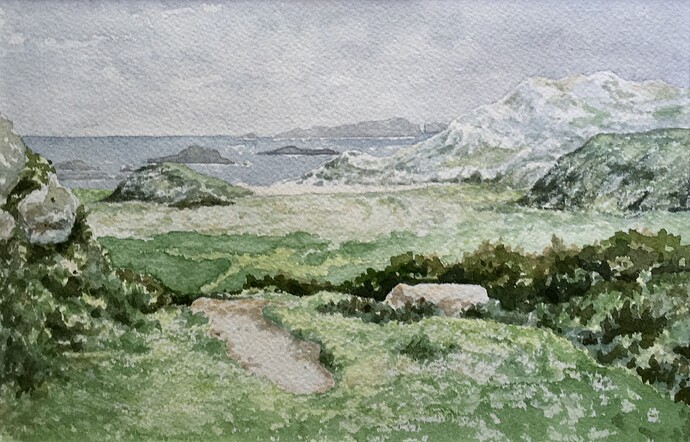 So bring on those projects friends—let's see your woodwork, crochet, fancy cakes, eisteddfod entries… We could even revive or start some specifically Welsh crafts… just saying.
Hwyl,
Mari