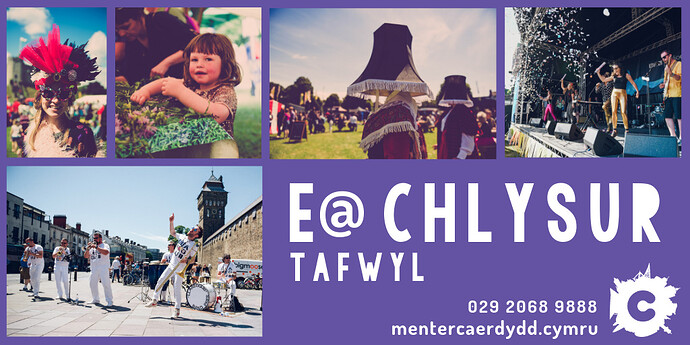 Tafwyl is the major Welsh language celebration that takes place in Cardiff in the grounds of the castle. It's a fantastic event to get along to, and fun to volunteer as well. If you're still early in your learning journey, they'll usually pair you up with a more experienced Welsh speaker so it's great experience. Here's the information for volunteering this year:
GWIRFODDOLI YN TAFWYL

Da ni'n edrych am wirfoddolwyr brwdfrydig a chyfeillgar sydd yn mwynhau fod yn rhan o brysurdeb a bwrlwm Tafwyl! Os da chi'n bwriadu dod i ymweld â Tafwyl eleni, beth am helpu allan am gyfnod?

Dyddiadau Tafwyl 2022 yw;

Dydd Sadwrn y 18fed o Fehefin
Dydd Sul y 19eg o Fehefin

Fel diolch am wirfoddoli, cewch;

Tocyn bwyd o £10
Crys T newydd Tafwyl 2022
Profiad da a llwyth o hwyl!

DILYNWCH Y LINC – https://forms.gle/ut6whQfjGpJ2gA5GA

Neu am fwy o wybodaeth, cysylltwch a caryl@mentercaerdydd.cymru
Volunteer at Tafwyl
We're looking for enthusiastic and friendly volunteers who enjoy being part of the excitement and buzz of Tafwyl. If you intend to visit Tafwyl this year, how about helping about for a period?
The dates for Tafwyl 2022 are:
Saturday 18th June
Sunday 19th June
As a thank you for volunteering, you will get:
A £10 food voucher
A Tafwyl t-shirt
A great experience and lots of fun!
Follow the link: https://forms.gle/ut6whQfjGpJ2gA5GA
Or for more information, contact caryl@mentercaerdydd.cymru
www.tafwyl.cymru