I know a few of us SSiWers decided to give a try to official exams (Welsh as second language? Welsh for adult learners? I'm not sure of the exact definition, but I know levels are Mynediad, Sylfaen, Canolradd, Uwch and maybe one more above).
This year it was speaking test only and you could do it via Zoom from anywhere in the world.
I had never planned to do it, but then lockdown made me lazy and unmotivated. Another learner suggested a challenge might help, so I registered for Sylfaen (having spoken maybe 6 times since February last year, it seemed enough for me).

On June 18th, I sat (or stood?)the exam and now got the result: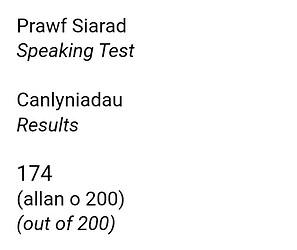 Quite happy about it!


Who else has new and old experiences to share? I'd be curious to hear them (I know there's somewhere we talked about this with @Cetra, @margarethall, @Betterlatethan and others, but can't find it now.
p.s. Thanks go to regular chatters @Baruch, and Jennifer B. , Everybody at @nia.llywelyn's Wednesday SSiW chat group, Saturday at noon (@rich) and outside this forum,Aberteifi (Philippa and Nic), Aberystwyth (Jaci) and Duolingo (Richard ,Morse) groups, I've been practicing with from March to June. @Deborah-SSi for having no mercy

my first time in Wales, and SSiW and sorry if I'm forgetting anyone!