Prynhawn da bawb!
I have an exciting announcement for you!
We have a date and location for SSiW's big 10th birthday party celebrations!!! We have just had a very exciting meeting with the venue and it's shaping up to be a truly memorable event!
Booking link:
Dates - The celebrations will begin on the evening of Friday the 31st of May 2019 and end on the afternoon of Sunday the 2nd of June 2019.
Location - The celebrations will take place in Caernarfon and mainly in the Galeri.
What's happening -
The first evening on Friday the 31st of May will be an informal and fun gig and hog roast evening at the Galeri. We are in the process of confirming with various, much loved Welsh artists and will let you know as soon as we have their confirmations. The hog roast will be supplied by a local company and will have the focus on local produce as well as having options for vegetarians. We have chosen artists which will hopefully appeal to all ages. Ticket holders will be supplied with wrisbands and the venue will be providing adequate security for our own privacy.

The first full day on Saturday the 1st of June will offer a variety of activities in and around Caernarfon - details to follow.

The second evening on Saturday the 1st of June will be the main formal SSiW 10th birthday party (smart dress - formal dress optional (Aran will be in a dickie bow!)). The party will take place in the main theatre at the Galeri. Guests will be able to register on arrival and obtain their name badges. During the first half hour meet and greet session in the bar area, there will be a Welsh themed welcome drink for all with live background music from a local harpist. The party will be a cabaret style evening (large round tables - 10 to each table but no formal seating arrangements) in a dramatic setting. There will be a gourmet hot and cold buffet, celebrating local produce which will have choices for vegetarians and vegans. The evening will contain an awards ceremony, guest speakers and one or two surprises.

The second day, Sunday the 2nd of June will give guests the opportunity to come together and socialise once more before departing - details to follow.
How do you get involved? - Tickets will be available for the whole weekend and will be priced at £50 per head. The ticket purchase page will be opened within the next two weeks and will allow you to reserve your place for a (non-refundable) £25 deposit. There will be a date on the booking page noting the final complete payment date. Please note there will be 120 places available - so first come first served.
We will provide you with comprehensive links to recommended accommodation sites, reliable travel links and parking information.
We are all VERY excited here at HQ. We are pulling out all the stops for this event and can guarantee you that it will be spectacularly special.
---
Accommodation links -
Almost immediately next door to the Galeri there's a Premiere Inn and a Travelodge. Then about 1/2 blocks down is the posher and rather more expensive Celtic Royal hotel.
Caernarfon is also packed with guest houses, B&Bs and hotels - something to suit all tastes and budgets. -
Or if you fancy staying in a 16th century inn -
---
Here's some additional info on the location -
Caernarfon has fabulous bus links and Bangor Train station is just 20 minutes away.
Caernarfon is a beautiful waterside town with so much interesting history. You'll be able to roam it's narrow streets within the castle walls, enjoy it's magnificent castle, ancient roman remains and a stunning waterside walk looking out over Anglesey. This vibrant town is packed full of Welsh, locally run shops, from galleries to bookshops, delis to craft shops. Along it's varied streets you will find artisan chocolate shops, gift shops, local hand made and award winning jewellery, ice cream parlours, a Dutch pancake cafe, Welsh bars, Welsh restaurants and so much more. The town boasts the smallest bar in Wales and the waterside pub, The Anglesey, where Aran and I met for the first time on a blind date!
Here's some additional info on the venue -
The Galeri itself is a not for profit community enterprise operating as a Development Trust and a hub of Welsh culture. It is sittuated right in the heart of Doc Fictoria/Victoria Dock and overlooks the harbour. It is a creative enterprise organising annually between 400 – 500 events, with ticket sales of over 40,000 consistently. Galeri's artistic programme includes a range of art-forms including theatre, film, music, dance, talks, literature, exhibitions, workshops and short courses. It has a fabulous cafe bar with a wonderful atmosphere and several studios/function rooms.
The Galeri's waterfront location in Caernarfon -

The Galeri's main foyer and bar -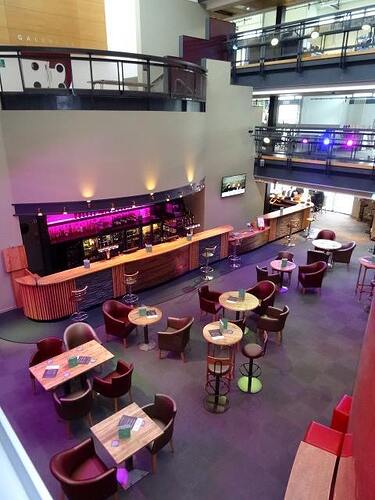 Definitely attending.
Trying to make it work.
Definitely can't come.
The booking link again: