Learning Welsh gives you such a boost that you walk faster!

And to make matters worse, it should, of course, be "AN 8 minute walk".

PS. "Lle chwech" is also a colloquial term for toilet as is "ty bach" but I believe there is no strict requirement for there to be exactly six orifices.
I think they are accounting for the additional time needed by English-speakers, because it takes them more time to read the bilingual signs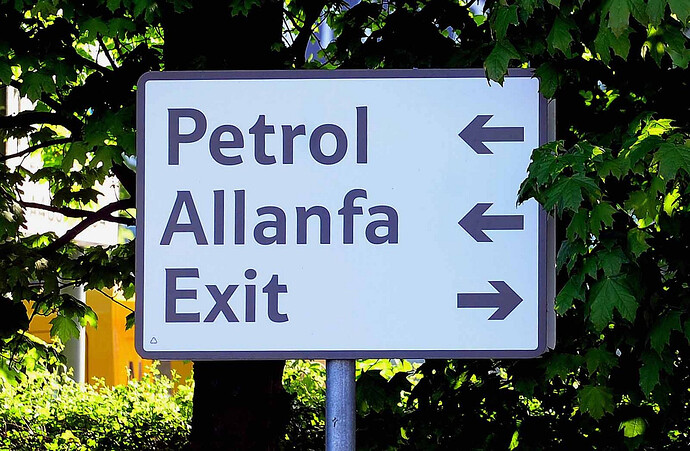 from
https://www.walesonline.co.uk/news/wales-news/gallery/18-signs-shocking-welsh-translations-6380985
Presumably Welsh speakers exit to the Left, whilst English speakers leave on the Right?
Welsh speakers know a secret shortcut

I'm relieved to hear it! I'd be concerned about a person with 6 orifices.
I'm relieved to hear it!
I see what you did there.

I hope we'll eventually get to the bottom of this matter.
I've just done an inventory and I've got 6 (none of which involved any piercing
)
Really, I'm intrigued. According to Wikipedia I've got 9 or maybe 11 if you're being pedantic.

Or 12 if you're me.

(And I'm known for being pedantic)

Yeah, the only reason I said 9 is that I'm not sure that two of them serve any purpose in a man and therefore whether there's actually an orifice. I don't know. I'm going with 11 for me and 12 for you.


I've always thought of them as something you could give medication via. This is a new one for me. Or these are.
OK, I've got at least 6
Ah! That's why!

I knew we physicists would get in on the act
Human Body and Topology discussion
I hope @Baruch will forgive the massive digression from his original post. If not, I'll move it.
I found that discussion fascinating. It's amazing what we can learn by coming to this forum.
Sue
It's favouritism. There's a shortcut os ti'n cerdded that isn't there if you only walk.