This sounds brilliant! If anyone goes to see it, post a review here for us all to see!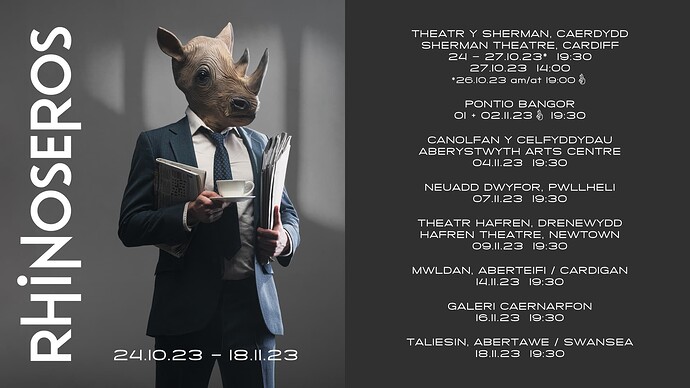 Mewn pentref tawel, mae rhinoseros yn taranu trwy'r strydoedd. Mae pawb wedi drysu'n llwyr. O ble ddaeth yr anifail arswydus?
Ond, fesul un, caiff holl drigolion y pentref eu hudo gan y drefn newydd a'u trawsnewid i mewn i fwystfilod. Wrth i'r byd a'i bobl newid o'i gwmpas, mae'r arwr annhebygol Bérenger (Rhodri Meilir) yn gafael yn dynn yn ei hunaniaeth ac yn gwrthod ildio – ond beth ydy'r gost o beidio cydymffurfio?
Yn llawn hiwmor annisgwyl a thensiwn hunllefus, mae Rhinoseros yn sylwebu ar gymdeithas, eithafiaeth a sut y gall casineb ledaenu fel feirws. Mor berthnasol nawr ag erioed, daw'r campwaith absẃrd hwn gan Eugène Ionesco i lwyfannau Cymru yn yr addasiad cyntaf i'r Gymraeg gan Manon Steffan Ros ac o dan gyfarwyddyd Steffan Donnelly.
Byddwch yn ofalus – mae'r rhinoserosod yn dod!
(In a quiet town, a rhinoceros is thundering through the streets. The people are totally confused. Where did the terrifying animal come from?
But one by one, all the inhabitants are bewitched by the new order and are transformed into monsters. While the world and its people change around him, the unlikely hero, Bérenger (Rhodri Meilir) holds tight to his identity and refuses to yield - but what is the cost of not conforming?
Full of unexpected humour and nightmarish tension, Rhinoceros comments on society, extremism and how hate can spread like a virus. More relevant now than ever, this masterpiece by Eugène Ionesco has been brought to stages in Wales by Manon Steffan Ros under the directorship of Steffan Donnelly.
Be careful - the rhinoceroses are coming!)