Hope I said this right

?
Diolch yn fawr pawb. Looking forward to my bathodyn gwyrdd.
Mewn ateb i'ch cwestiwn, dw i'n byw yn Ynys Môn.
Diolch Helen, dw i'n lyfio Ynys Môn
!
Great pronunciation there @samuel-jellicoe! You sound like a real Gog

Made my day, diolch yn fawr Dee!
Hi @jennycassidy, I went to listen to your reply but it says "This track was not found. Maybe it has been removed". Did you delete it?
That's done the trick Jenny

Dee I have recorded the sentence, answer, and 5 minute sentences but have still not turned BLUE. Where am I going wrong? Jenny
Hi Jenny you do seem to be blue!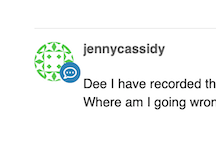 Is it not the little speech bubble - I see yours blue (mine is pink?)
It looks blue to me too - try refreshing your browser? (Congratulations by the way)
Thanks to you both. I must be colour blind!
Yes, definitely blue, but here's some more to reward your persistence
Diolch Dee. I love the rewards!
Jenny