Since I already live in London, is there an option to just join the tour without the transport/accommodation?
@richard-j85 yes the whole idea is to get people who are learning and live locally to jump on board as well to join us during the vist

Da iawn! I live in London as well but I was a bit hesitant to speak up because of the price tag. Any idea what it would cost for those of us in the area?
@AddiT I'll get back to you asap on this one, I do hope it will be free
A quick look at the 2019 Elfyn Thomas brochure suggests that the only pick up points are in North Wales. Will this be the case for the London Welsh Tour?
There will be 2 pick up points:
One starting from Anglesey/ Caernarfon, A55
The other
Swansea, Cardiff, M4
Diolch
I phoned the bus company this morning,
We're 1/3 of the way there to realize the Bus Ride Weekend to London!
Please let the bus company know if you're intending to come. It's also a good practice to speaking welsh on the phone ( but please don't end up in Blackpool @clare-6
)
Oh, that's good. Fingers crossed. I think I reserved a place on the London trip when I called but there's lots to do in Blackpool if I end up there which could be the case!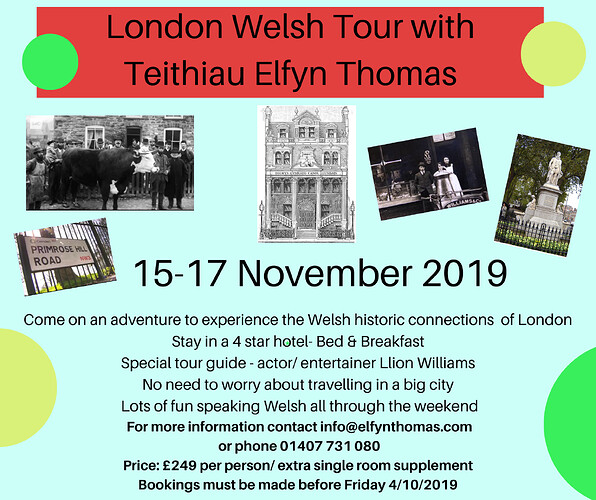 It's your last chance to book a place on this trip this week.
Unfortunately, if there aren't enough numbers it won't be setting off to London…
but the good news is that I will be coming


I live in Hampshire, an easy train ride from London, is there an option to join just in the days, also, what hotel/area are you staying in? Many thanks
@emma-powell. Yes there is, I don't think we'll be able to fill a bus/coach so the Day Out will be held on the 16th, more details to follow


Edrych mlaen i gyfarfod pawb, looking forward to meeting everybody
Good question! I suspect there are a good number of us within easy reach of London who'd like to join in as well
I'll look at getting a hotel for the saturday night? What area are you staying in please? (I can do some Christmas shopping on the Sunday!!)
I'd like to come for the day - don't need trabsport or accommodation. How do I book on?
No need to book for Days Out. We just want to establish a meeting place where we can all meet up, if it's five people or fifteen

More details will be sent out soon ( as soon as we hear if the coach is coming or not!). Diolch
Has the weekend been moved to Nov 23rd now?
Yes, Very sorry, I forgot about this thread.
Yes, @emma-powell, the trip had to be cancelled because there weren't enough people on board unfortunately, @johnwilliams_6.
@ceri-francis already knows because she cones on hangouts

The date has been moved to 23rd of November…and I have booked my train ticket already


@AddiT you know the date has moved to the 23rd, I think I wrote it on the poscard,