Watch this space over the next few days for some very special Christmas greetings from the SSiW team…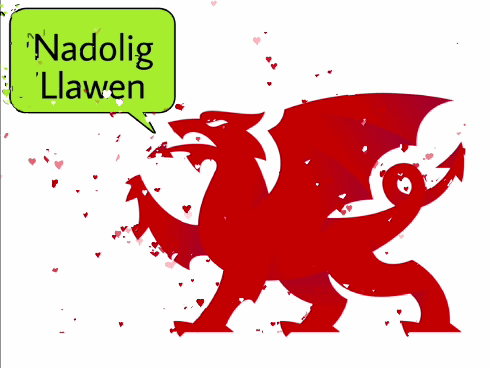 Hello everyone, and Nadolig Llawen to you all! I'm Stine, and I work in the SSiW team in a mix of finances, looking after all our work-based employer-sponsored learners, and a bit of general learner account support. It's been a strange year so I'm v much looking forward to things getting back to as normal as possible come 2021. One of the things which has made this year more enjoyable has been chatting with people on this forum and in our email in-box, and hearing your stories about how you're doing on the course. Keep on practising Welsh, and keep on chatting!
I wish you all a happy and safe Christmas, whatever you're doing, and look forward to more conversations in the New Year. I'm not a big video user* so instead, here's a pic of me and our enormous dog looking as festive as he'll manage

Take care, Stine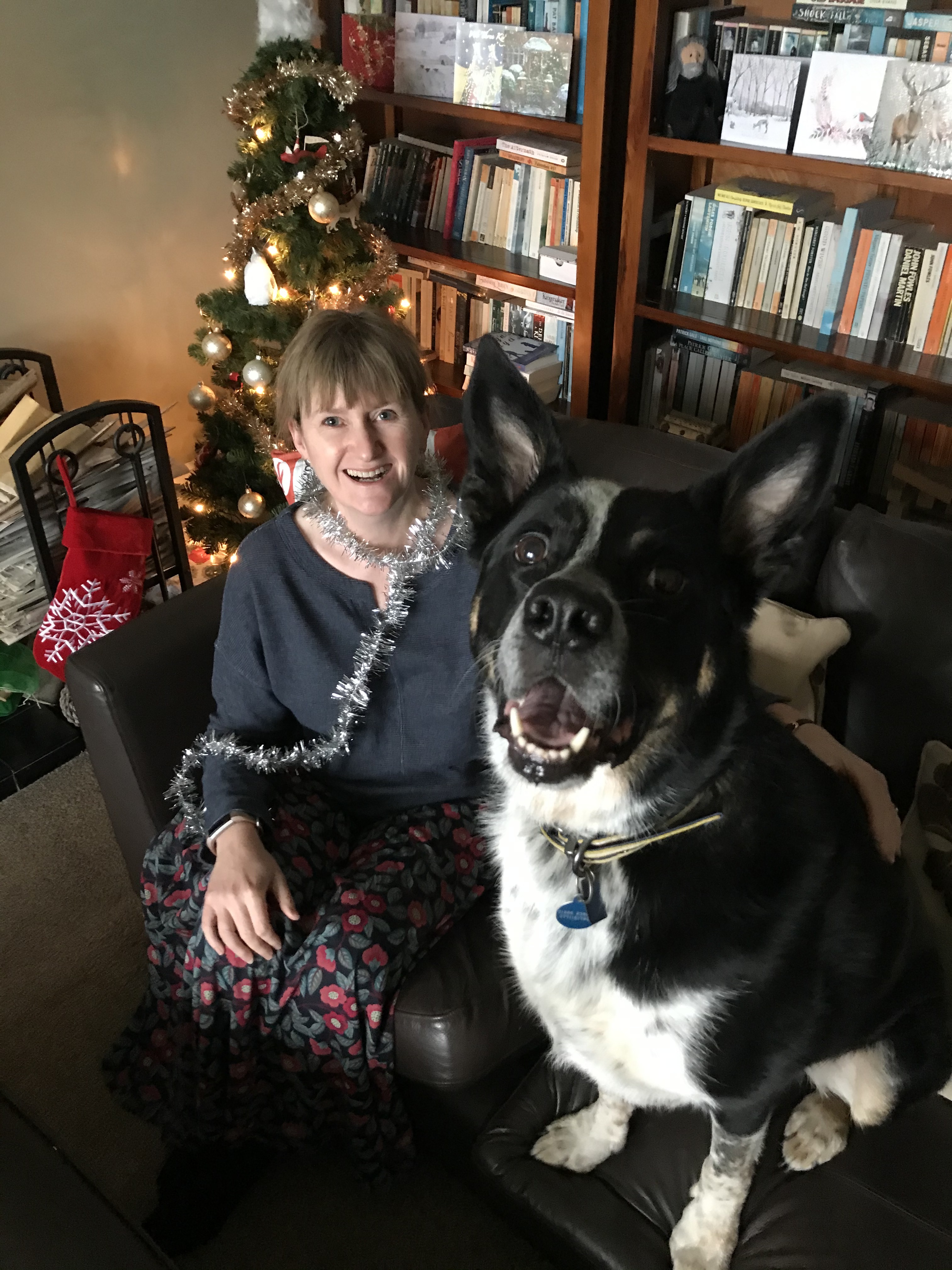 *if you want to hear me, I'm the second interviewee on Deg Y Dysgwr with Beca in the Advanced Content materials. On your own heads be it

Massive Nadolig Llawen from me back to the whole SSiW team too.
You really have made a difference to me in what has been an otherwise really challenging year.
I work as a doc in the NHS, and since Spring, I've been doing the Challenges in the car to and from work. Aran's cheery encouragement has kept me going on some of the darkest days!
I have found learning Cymraeg the perfect way to 'zone out' from the demanding nature of the work, and - twenty-something weeks later - I feel like I'm really getting somewhere. I'm looking forward to speaking in Cymraeg with my extended family over Christmas (albeit on zoom).
Huge thanks for what you do.
Hoping to meet up in person some day.
Hwyl am y tro!
Tom
Diolch yn fawr iawn to you and all your colleagues on the front line, Thomas. You've really been through it on our behalf…so pleased SSiW has helped you through
Take care, and yes, hope to meet you one day too. Have a great Christmas & hope you get some form of well-deserved break!
Tom, thank you SO much for your work. It's been a brutal year for you guys - my brother is a surgeon - and we really are more grateful than we could possibly express. I'm absolutely delighted that you've found some valuable distraction with us, and I'll look forward enormously to meeting you.

Hi everyone! I'm Jesse and I work in marketing for SSI. I'm currently in lockdown in the Washington DC area, about 15 minutes from the White House, where in 33 days, a new resident will be moving in! (But who's counting, eh?

In regular, non-pandemic life, I'm somewhat of a digital nomad and have found myself spending quite a bit of time in Wales over the past several years and really falling in love with your beautiful country! And in 2021, I am determined to learn your beautiful language!
Here I am with my partner Krysthel, who makes me a better man in every way. Krysthel is from Panama and is also part of the SSI team. Together, we wish you all a very merry Christmas (or whichever holiday you celebrate!), and very much look forward to getting to know you better in 2021 and beyond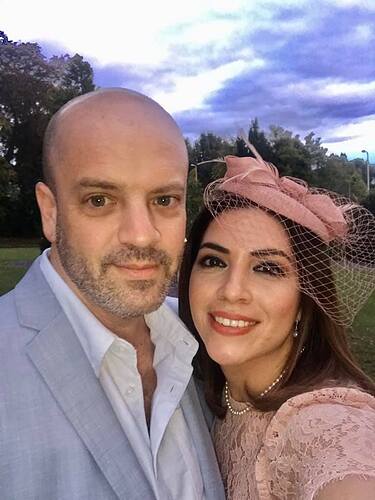 Exciting to see Jesse on the forum!

Hi there! Nadolig Llawen to you all! My name is Faye and I work on the SSiW team as Course Production Lead for the (soon to be published) English courses. I'm currently learning Welsh too- so I'm on this journey with you all and you seem like a lovely bunch! Here's a photo of me getting cosy with my tree just before it fell over

Wishing you all a very merry Christmas and I'm looking forward to getting to know you all better in the New Year! Take care, Faye.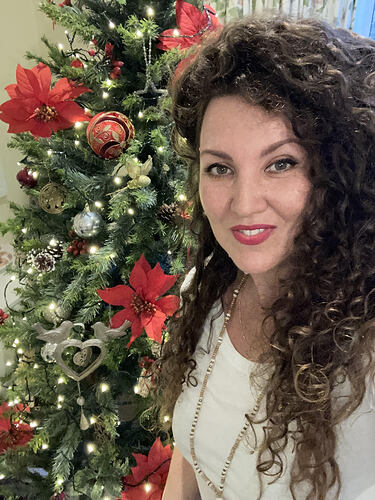 Nadolig Llawen and Blwyddyn Newydd Dda from me!
I mainly give support to people who are learning Welsh with us - in Slack if you're doing one of the structured courses, or via email if you contact Admin.
I also run the Q&A sessions which are part of the structured courses, and I pop into the forum here when I can.
Excuse my croaky voice in the video! It's not Covid - just a seasonal cold

So lovely to see @Faye on the forum, and to hear that @Deborah-SSi is not suffering from Covid!

Nadolig Llawen from myself and Leisa and Tomi! Hope you have a lovely time, and stay safe.
Diolch o galon, Aran.
Here's to 'gwydrad neu ddau' someday in better times.
Nadolig Llawen from Portland, Oregon, USA! Jeff here - I lead the tech end of things at SSi (and we've got exciting things in store for next year!). But I am also involved with the Welsh Society of Oregon, so here's something we prepared earlier. This video features the singing of SSiers Jamie Webster, Andrea Wild, myself + plus special guest Heather Preston on the final tune. If you are into Plygains - I hope you like it. If you're not, turn down the sound, and enjoy images from the last remaining Welsh chapel on the West Coast USA, and some Christmas wishes (sent telepathically - you'll see) from members of our Welsh Dragon Choir. Blwyddyn Newydd Dda, pawb!
Diolch a Nadolig Llawen @lewie - arbennig!
Nadolig Llawen to everyone at SSiW, and to the friends that I have made thanks to SSiW. This has been a strange and often challenging year for us all, and for me SSiW was a big and positive part of it. I enjoyed working my way through the challenges and now I love being part of the community! Diolch yn fawr iawn i pawb!