Dyma ddau ddigwyddiad 'traddodiadol' fydd yn dechrau yn Nhrawsfynydd ar yr hen galan ar y 13eg o Ionawr! Bydd HENO yn dod i recordio taith y Fari Lwyd! Dewch yn llu i gefnogi!
Mae ymgyrch i gasglu bach o arian at gael anrhegion bach calennig hefyd i blant yr ysgol, a bydd arian dros ben y targed yn mynd at yr ysgol hefyd!
Cyfrannwch os gwelwch yn dda!
https://www.crowdfunder.co.uk/…/casglu-swm-calennig…
These are two 'traditional' events that will start in Trawsfynydd on the old galan on the 13th of January! HENO will be coming to record the journey of the Fari Lwyd! Come join us to support!
There is a campaign to collect a little money to get small gifts for the children of the school for the calennig, and money over the target will go to the school too!
Please contribute!
https://www.crowdfunder.co.uk/…/casglu-swm-calennig…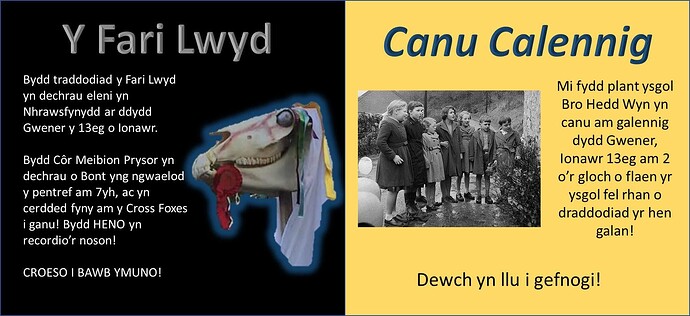 Follow the Mari Lwyd in Pontcanna, Caerdydd!
Taith y Fari Lwyd gyda Dawnswyr Twrch Trwyth
Nos Wener, Ionawr 13eg
Ymunwch gyda'r Fari Lwyd ar ei thaith drwy Pontcanna a Threganna:
7.00pm Pontcanna Inn
7.30pm Beverley
8.15pm Halfway
9.00pm Victoria Park (lan lofft)
Canu cymdeithasol i ddilyn yn y Victoria Park.
Dewch i ymuno â ni!
Am fwy o wybodaeth, ebostiwch dewirhisiart@hotmail.co.uk neu ewch i dudalen Facebook Dawnswyr Twrch Trwyth
Find out from you local Menter Iaith if there's an event near you
www.mentrauiaith.cymru
Not an event, but this video was posted in a different thread and I thought Mari Lwyd fans would enjoy it