How can I get back to the old website. I need to practise levels today. Panic stations!
I am not sure how to get back to the old website, but for me on the new website there is a button on the top right that says challenges and when you click on that there should be a link for all of the levels and courses inside of it. Hope this helps haha
Oh, thank you Ben. I felt panic rising at the thought of not being able to do some lessons today. Hmm! Looks like some addiction going on there. I'm going to Bootcamp at the end of July and don't want to waste time. Back to it then.
Thanks for your help, Ben, that was a great catch!



Sorry - I don't like new look. Much too fussy and not so easy to navigate. I also would like to know how to get the old look back!
For all of you:
Go to your profile on your learn page
Click settings
down below you have the tick box "Use new look" (or design I'm not sure now what it actually says" and utnick it (the box must be empty)
click "save changes" and you're back to old design.
I know it's a bit confusing at the first glance and not all things you have on old design are there on new yet, but since the new design would be implied for all in a month I'd suggest to use it as much as possible so you'd get used to it until that time.
@Aran I've got one idea about doing some kind of "how to" based on member's questions. What do you think about this?
I know I'm not @aran, but I think it's a good idea! (If you have the time!).
This morning, when I came to log in, I was immediately in 'new format' for the first time. This was fine for me, but if it happened to anyone not used to it they wouldn't even know how to log in!! I'll check by going out and in again, but I think I just got major heading and three white lines and two colour boxes on the left.
edit:
I got plain SSIWELSH with click boxes for North or South and three white lines at top left! Not very helpful for someone used to old format!!
Will have some fun with this later on …
Sorry about that, Peter - as Tatjana says, under 'profile' is where you can switch back for now - but also as she says, we will be needing to move over permanently by the end of May (running two separate designs would lead to regular complications when people were asking for help, as well as extra work in trying to make sure that new functionality works in both). So it might be worth trying to get used to it.

Hi Aran, Haven't been online for a few months and still on Challenge 13 Level 1. Took a break and listened to some Now You're Talking programmes, Wanting to get back into SSiW and was doing fine until it looks like the whole system has changed over. What is going on?
Thanks
And come on Wales - see Ronaldo and co off.
When on Learn page @YDraigGoch click on SSi letters and you'll get the Challenges menu from which you choose the language. You have to be logged into learn page separately from the forum of course.
The site completely transferred from old to new look about a month or two ago and everyone has new look now which is (I'm afraid) not reversable anymore. I tend to go through my instructions to correct everything what needs to be correcrted so they'd be useful for this new look again but I just can't find the time to get around doing this but at least at the beginning of next month I promise I'll start to revise my instructions which (I'm afraid) have to be fully revised though.
I hope you'll manage to find the challenges from this point on if not get back to us here so one could help you further.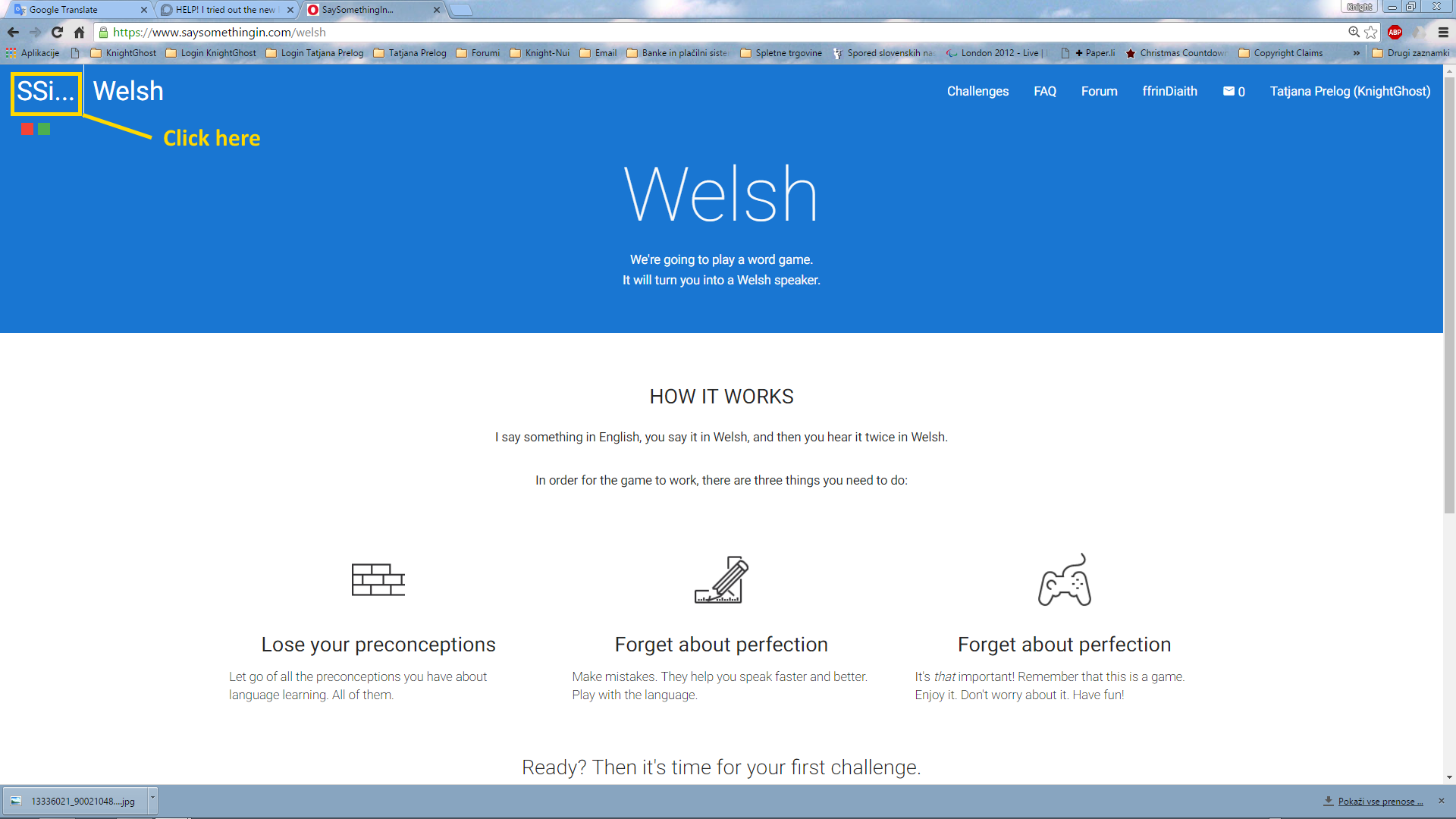 to get this: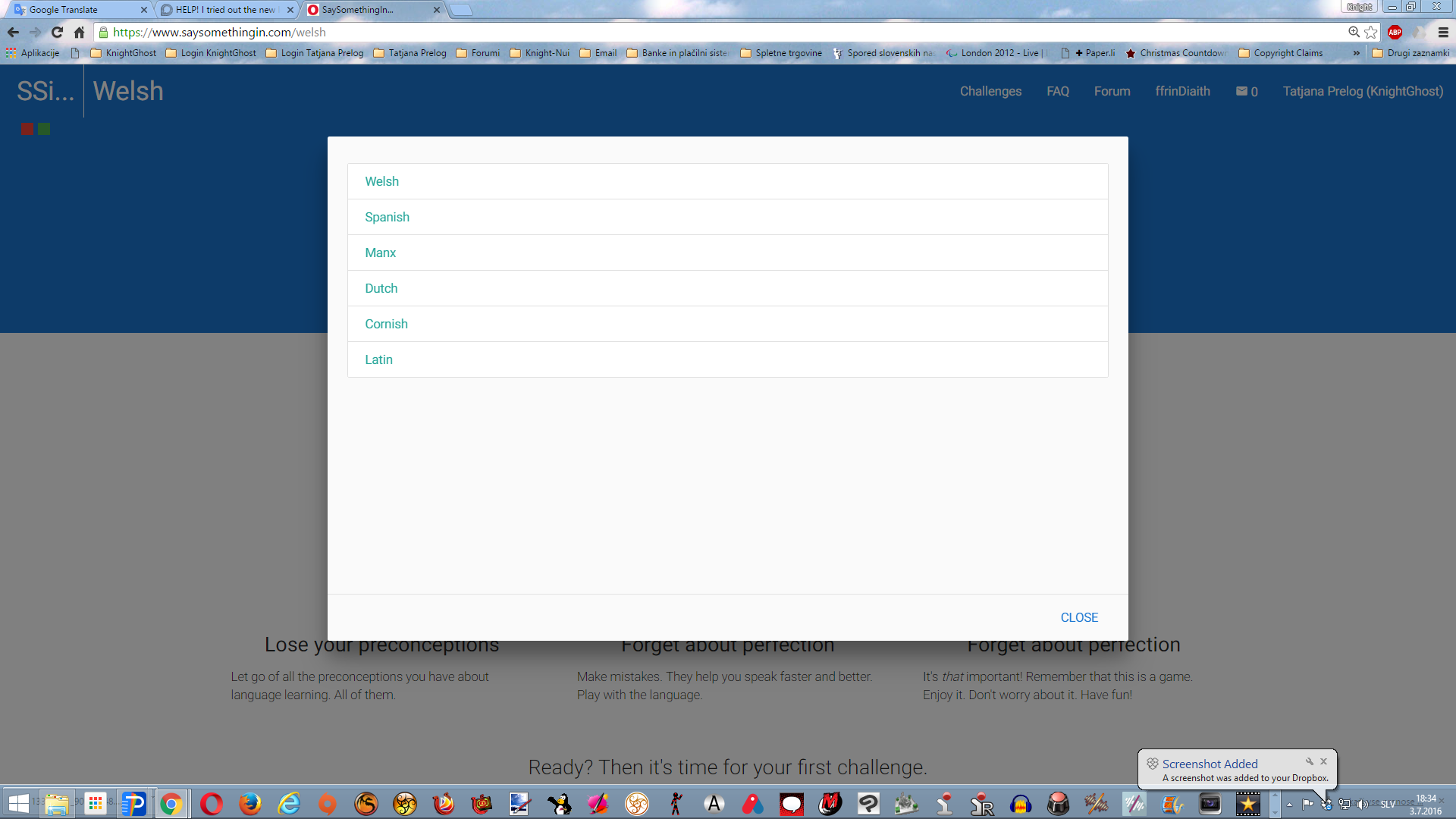 Now choose from the languages. When choosing the language, challenges are at the top right(ish).
Pob lwc!
Tatjana

Hi Tatjana,
Think I've found the 'New' Challenges. Looks like the old intro theme has taken the place of the Lleuwen song. Also looks like much of the original course is here again. Will have a closer look now but am I about right?
Diolch
Sorry, I have found the new levels. Nothings changed except for the format and the vocab text is more user friendly. Well, it's back to Level 13 again. Thanks once again.
@YDraigGoch When you are on the Welsh page that @tatjana shows in her first screenshot, scroll down a bit. Under the box that says "Introduction", you can click on "See all challenges" and you will get a popup box that looks like this: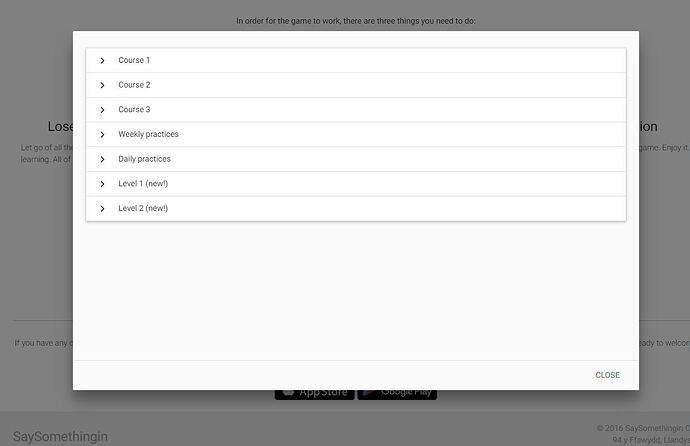 This is where you can choose which Course (old) or Level (new) you want. Click the arrow in front of the name and it will give you a drop-down menu of all the lessons in that course.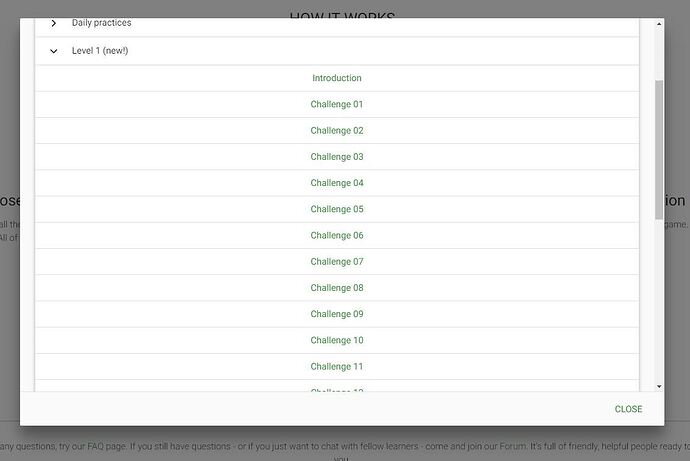 Hope that helps, let us know if you need more help

Edit: We posted at the same time! Glad you found what you needed. Pob lwc!
Many thanks. I'm back on the Challenges again and your help was clear. Hope one of these months to get through Challenges 12/13/14. Dread to think what lay ahead. In all, a lovely language.