We were all saddened to hear that the Tregaron Welsh National Eisteddfod had been postponed for this year till next. But the team at the Welsh National Eisteddfod have pulled together all their resources, creativity and partners to provide alternative Eisteddfod content to all their followers.
In their own words -
AmGen will make elements of the Eisteddfod available for people to enjoy during these difficult times. AmGen is the Welsh word for 'alternative'… AmGen is a multi-platform project, which aims to reach everyone. By using different platforms, including traditional press and media, we hope our content is accessible to as many people as possible.
As the official week of the Eisteddfod approaches (1st - 8th August), here's a timely reminder to all of you on how to get access to all that's on offer from Eisteddfod AmGen -
Here's an 18 second YouTube video all about the EisteddfodAmGen - AmGen mewn 18 eiliad / AmGen in 18 seconds - YouTube
Here's a link to their official YouTube channel - https://www.youtube.com/channel/UCvSCwaCjMNKYO0XVDtONmgQ
To learn more about this very exciting project please click on the following link - National Eisteddfod launches AmGen - an alternative project for 2020 | National Eisteddfod
To see what's on and enjoy all the content that Eisteddfod AmGen has to offer, please click on the following link - Eisteddfod AmGen 2021 | National Eisteddfod
For Eisteddfod AmGen's activities for learners, click on this link - Her AmGen yr Wythnos | National Eisteddfod
Here's where to find them on Facebook - Eisteddfod Genedlaethol Cymru
Here's where ti find them on Twitter - https://twitter.com/eisteddfod
Here's the current timetable -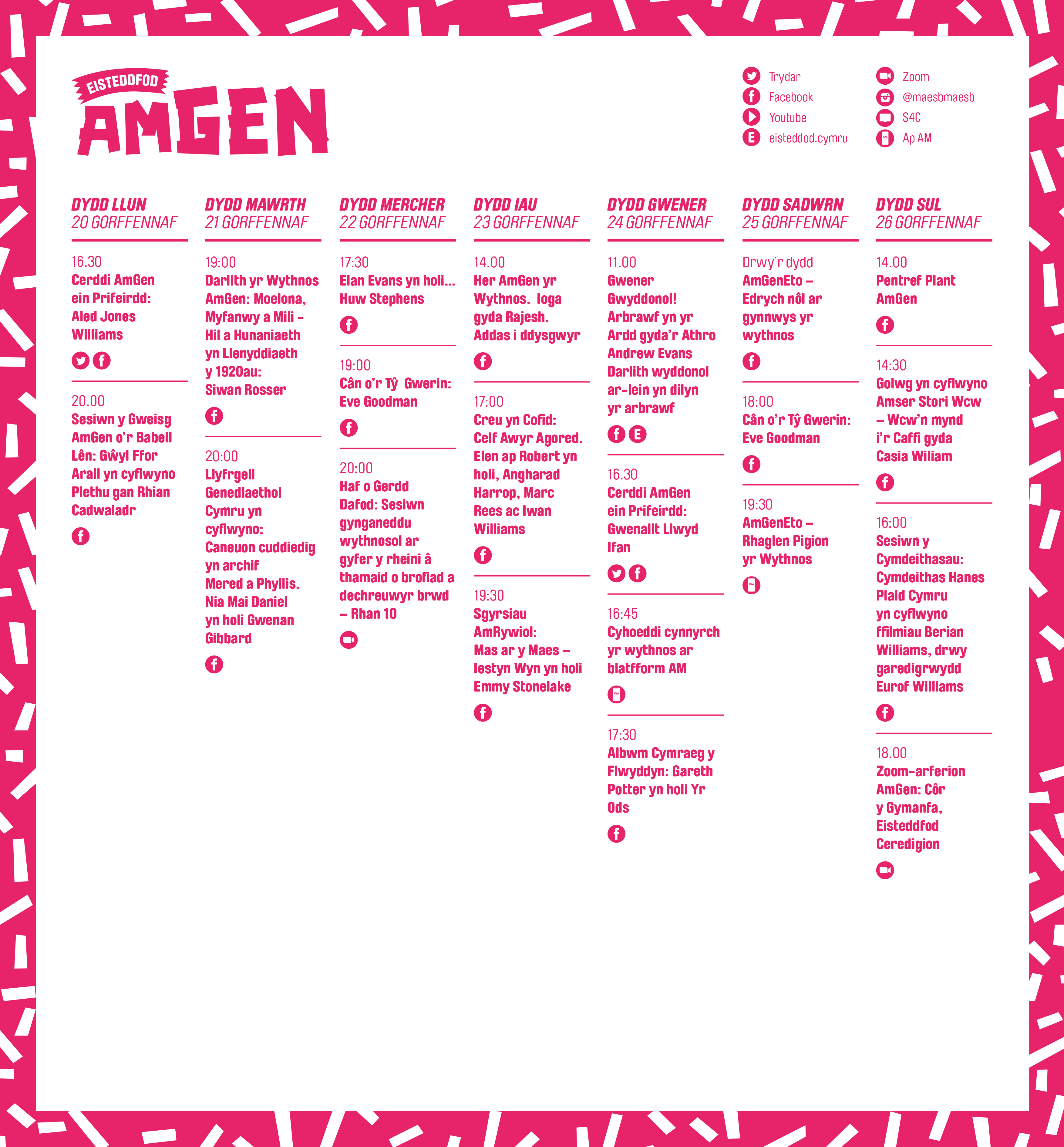 Please use this thread to share information about interesting performances of content which you've seen, or items in the schedule which you think may be of interest to others on this forum. Diolch and ENJOY!