The format of these conversations has changed. I cannot download the mp3.
Is it me or have I missed someting.
@Kinetic - are the mp3s your department?
Uh, I hadn't noticed the page has been all tidied up neatly - thanks for letting me know.

I've just tried to download a few random ones from this and from Hendrik's set right above and they all seem to work for me.
If it's the website you're referring to, that's where you have to click to download it now (if that's the problem).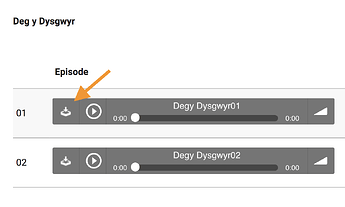 If it's a specific audio file or an app you're using, just give us a few more details so we can see if we can help!
p.s. I really like the new page cause it's way easier to find things now. However, changes often need a little settling and figuring out effort from users, but I'm sure it will work fine!
I am not getting this page. Mine is minus the download mp3 option you point out.
Its annoying because I found the page you indicate comes up on my wife's laptop but I do all my lessons the one I'm using now. I can't send you the screen shot .I'm 82 years of age and apart from the basics the digital age is beyond me.
Thank you for your reply .
Brian, you certainly have an uncommon willingness and ability to learn new things if you're doing a Welsh course and using a computer already.
Da iawn!
There's still a few attempts we can do to figure it what's wrong with it, if you like.
To be more precise, it is a classic computer with keyboard and mouse, not a mobile phone or pad, is it?
If you click this link on your computer, do you see the page you usually use for the lessons? Or it's different?
https://www.saysomethingin.com/welsh/advanced
Laptop and mouse. Yes it is this screen . I used to be able to right click on the sound icon to download the file. This no lomger works
Maybe they've changed the player a bit, recently.
Do you see it in the challenge/lesson pages?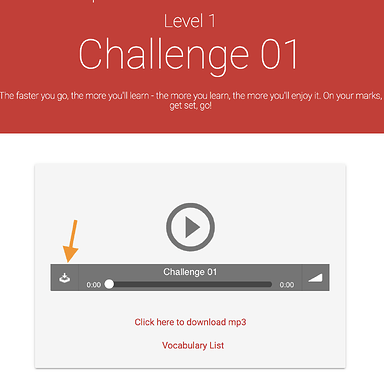 If not, maybe some reason it doesn't communicate well with the thing (browser) that you use to listen to it and go around the internet, which might need an update - or it's really something that those who did the site might know (@siaron has already "called" them in the post so they might show up soon)!
I don't get the same screen as you. I have completed the old and new course but then I started 10 years ago. Now you know how long it has taken me to get to the advanced content. I chat in Welsh to a learner in N wales each week.
Very many thanks for trying to sort my computer out. I will use my wife's laptop if necessary.