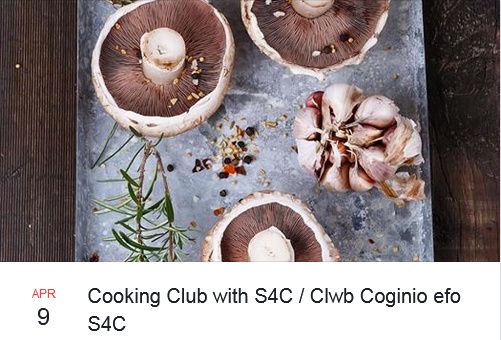 Tuesday, 9 April 2019 from 18:00-20:00
Machynlleth Bowling Club
SY20 8AU Machynlleth
This Club is run by Mach Maethlon. Bydd Charmian Savill yn arwain y gweithdy coginio hwn, yn Gymraeg a Saesneg.
Bydd S4C yn ei ffilmio ar gyfer eu rhaglen "Prynhawn Da". Dewch draw i ddysgu sut i goginio pryd fegan ar y teledu!
Carpaccio Madarch gyda garlleg gwyllt, Vinaigrette Cennin gyda pannas a moron wedi'u pobi mewn halen gyda tarragon ffres ac yn drydydd, cwpanau bach siocled gyda halen pinc.
Fel arfer, byddwn ni'n bwyta'r hyn fyddwn ni wedi eu creu ar y cyd ar ol gorffen. Am ddim! Croeso i bawb! Dewch a ffedog os oes gennych chi un.
/
Charmian Savill will be leading this cooking workshop, in Welsh and English.
S4C will be filming it for their programme "Prynhawn Da". Come along and learn how to cook a vegan dish on TV!
Portobello carpaccio with wild garlic, Leek vinaigrette, salt-baked carrots and parsnips with fresh Mach tarragon and little no cook choc cups with pink salt to finish.
As always we will eat what we have created together at the end. Free! All welcome! Bring an apron if you have one.