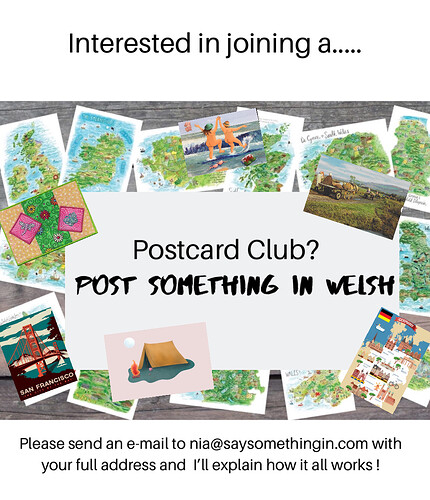 We're very excited to get two enthusiastic postcard senders to help us run Post Something in Welsh, posTcard club. Steffan Cravos over in Germany and his best friend Aled Roberts who lives in Colwyn Bay.
I will be the main administrator for the Club.
With exciting times ahead waiting for the postman to arrive we hope to officially start the Club when we get 30 members on board.
Here are the Post Card Club Rules."Post Something in Welsh"
We have your permission to send your address on e-mail to everyone in the Club. Please send me your address in full.
You will be invited to join the Welsh Speaking Practice which will be the platform to share information.
You will be expected to send at least one postcard every month
You can stop being a member at any time but please allow us time to inform everyone.
You will receive an e-mail every month with updates of new members and any exciting news.
The Welsh Speaking Practice will be the communication platform for this group although we will be hosting a facebook page to advertise the Club. You are not obliged to take part in the facebook page and we will ask for your permission if we want to use any information which is relevant to you.
We very much hope you enjoy being a part of Clwb Cardiau Cymraeg 'Post Something in Welsh'
The fun starts here!