Hi Everyone
Is there still an Aberystwyth meet up on Thursdays?
Kate
@Deborah-SSi is the most likely to know the right person to ping for this…

I think that the Clwb 'C' group (formerly CYD) still meets on a Thursday morning 11-12 in the Home Cafe. I have never been to it, but have heard that it's a bit more formal than an SSiW meet up - with Welsh tutors present! Mind you, I was told that the Machynlleth Clwb 'C' chat on a Wednesday morning is only for advanced learners and that's not the case (I have been to that one and they're very friendly).
You could give the Aberystwyth one a try and let us know! Pob lwc.
Diolch yn fawr. Bydda i'n trio eu ffeindio! Oes cwrrd gyda chi ym machynlleth ddydd Sadwrn neu ddydd Wener? Ga'i dod? Dw i'n byw ar bwys Carno. Sori…rhaid i fi ymarfer ysgryfennu yn gymraeg!
Diolch
kate
Heia Kate
The Home Cafe in Aberystwyth is near the top of Pier Street.
In Machynlleth, the Clwb 'C' meeting is on Wednesday mornings (market day) in the Tabernacle cafe (MOMA).
The SSiW meetup is on the second Saturday of the month (so the next one is 13th February), in Siop Alys, Maengwyn Street, next door to the Owain Glyndŵr Parliament building, opposite the gates to the park. Starting at 10.30, we'd be pleased to see you there

.
Helen
Hi everyone - are these details still correct? Diolch yn fawr
Hi Beatrice,
those are the details in the weekly email and no one has told me otherwise, so I think they should be still OK. The Aberystwyth and Machynlleth SSiWers tend to be pretty active.
There is also the every Wednesday, 11.30 to 12.30, meetup in Aberystwyth in Siop y Pethe. @Nicky is your contact person for that.
Hi All!
Unsure on the Thursday meeting, as work means I'm able to get to that one, only ever been the once.
I'm a veteran of the Wednesday Siop Y Pethe meetup - but again due to work and going to Paris this week, I've not been myself for a fortnight now.
I'll be there on Wednesday if anyone fancies it?

Thanks everyone - I'm assuming kids are welcome as far as you know? Any ideas about the meet up in Siop Alys on 2nd Sat of the month?Hoping to get along to one of these meet-ups before too long! Bea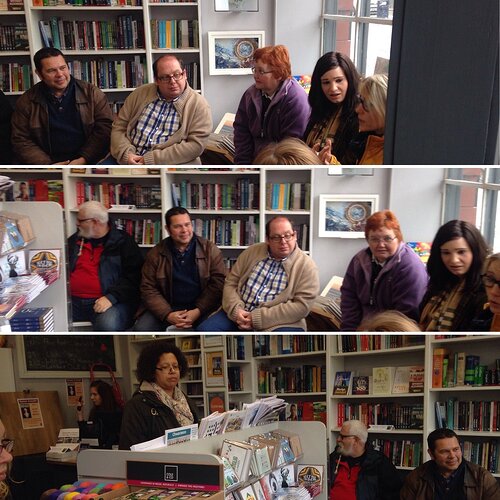 We were really, really pushed to our limits yesterday

to the point where Clwb Clonc pretty much took over SYP. There was a "Welsh in the workplace" course running across town and they decided to pay us a visit.
Everyone has gone away with SSIW installed on their mobiles, so hopefully we'll see a couple of them pop up here soon!
Helo Bea,
You're very welcome to join us in Caffi Alys. The next meet up will be on Saturday 9th December at 10.30 - 12.00. The staff in the Caffi are all Welsh speakers and very friendly to adults and kids of all sizes.

(Sorry not to have responded more quickly - eye problems that meant I wasn't allowed to read for a week!)