Learning Welsh language got me curious about Wales - where I had never been, except for a few hours on a train to Holyhead, many years ago.
Besides that, I thought I'd definitely need a challenge to keep my motivation to keep on studying something I would not use in my everyday life. A trip to Wales to speak with the natives sounded like a good idea, but a long holiday too complicated to organize.
Solution: about a week, low-season, low-budget, to mark about 6 months since starting SSiW. Very doable. It worked great and I really enjoyed myself besides making a huge jump in my ability to understand and speak! So I did two more weeks since then, same way.
And even with the extra bureaucracy there will probably be in the future, as long as the island stays where it is, I plan to come back again - you're warned!

A few learners seemed to be looking for information to organize similar trips. Therefore, I thought I might share my notes on the web, in case someone finds them helpful.
I travel by myself because that's the best way for me to be focused of what's around me, to be braver to start and speak with people and oh well…also because anyone not interested in Welsh language would complain all the time about my choices! But my notes may work for 2 or more.
GETTING THERE
Easiest/fastest:
Flight to Cardiff
PROS
Well. You're in Wales right away, how can you beat that, huh?
It's a very small airport so fast and easy to get around and reach gates.
Shorter queues (big bonus especially after Brexit).
Easy to get out and find any transports to the City, and back. The T9 bus stop to Cardiff centre is right outside the only entrance/exit.
CONS
Not many destinations available throughout the year
Example: this winter there's no flights from Italy. Last year I paid about £70 return from/to Milano Malpensa
Fewer low-cost offers available, compared to other UK airports
Flight to Bristol
PROS
Wider choice of flights and offers available. Example: In January 2020, I paid £ 40 return from/to Turin.

Bigger than Cardiff, but not huge, so still quite easy and fast to get around; reasonable queues at arrivals and departures

Coach stop to Cardiff Centre is right outside arrivals exit. From Cardiff, right outside depatures entrance.
CONS
Journey to Cardiff Centre rides less often, takes 1.30 hours instead of 40 minutes, standard price is higher unless you find an advance special offer
Not recommended:
Flight to/from London Stansted
PROS
Plenty of choice of low cost flights
CONS
Lots of flights arriving there, long queues everywhere (which are going to be even worse after Brexit so definitely to avoid!)
There was no direct connection fromthe airport. It took ages to reach Wales, including London Tube in rush hours, quite a nightmare. On a week-short trip it's a huge waste of time and energy, just not worth it!
Airport is closed at night, while flights are often very early in the morning so you might end up having to pay for a hotel room, just for a few hours. Quite annoying.
Worth trying someday:
Train
As soon as I can find a good match between my availability + good offers on my route Turin - Paris - London - Wales, I will go for it.
PROS
Usually, straight from the city centre to the city centre
No need to go there a lot in advance for security procedures, check-in, etc.
You can bring all the luggage I want at no extra cost. It travels with you so it won't get lost or broken. No need to wait for it at luggage claim.
You can also bring bottles from Italy, and different bottles back from Wales - you know what I mean!
It is a long trip, alright. But once you're on the train you can relax and make good use of your time and also walk around a bit from time to time. Then off the train, just walk to the next train and do the same.
With flights it's all broken into small bits, reach the bus stop or station well in advance, hurry dragging around luggage, wait, than hurry, then wait even longer, then sit squeezed in a seat with constant annoyments around, then maybe go through it all again for the connection, stand in a queue, figure out how to reach the town without spending a fortune and getting lost. Jeesh!
CONS
Less choice, more complicated to figure out the itinerary, harder to find very cheap offers
It usually takes more time than for a flight and actually quite a bit more than a direct flight from most locations in Europe
Not very doable if you don't live in Europe, I guess!
GETTING AROUND WITHOUT A CAR
COACHES (FROM ENGLAND)
If you flew to England, the cheapest way to reach Wales I've found is…a coach.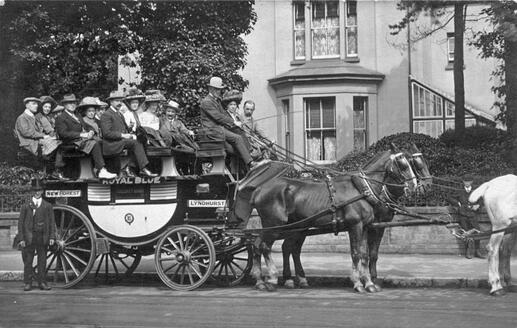 Note: sorry I couldn't resist because in Italy we usually call them all "bus", and I can't help thinking of these every time I hear "coach".
Now, serious. You can check routes and prices here:
Examples of advance offers I've found: Carmarthen - London Victoria Station £13 (6 hours), Bristol Airport - Cardiff £ 5.50 (1.30 hours)
Standard prices are higher, but usually still lower than trains.
You can also check https://uk.megabus.com
IN WALES: ROUTES AND TIMETABLES
You might not be able to visit very specific tourist sites or tiny villages in the middle of nowhere, but if you're not too much in a hurry, there's quite a lot you can see and do by using public transport only.
You can check and find most train and bus routes, timetables and prices here:
Traveline.Cymru https://www.traveline.cymru
(there's also an App for Android for sure, I guess also for iOS).
TRAINS
Trains are usually quite expensive in the UK, but you can plan a journey well in advance - both date and time, prices are much lower.
For example: Cardiff - Carmarthen single advance, on specified train only, non refundable between £ 8.50 and £ 13.50. Full price at the station, travel any time about £ 25.
You can also check timetables and buy tickets on:
Trafnidiaeth Cymru/Transport for Wales App (for Android I can tell it works well, actually) or the website: https://tfwrail.wales
BUSES
Besides basic info on Traveline Cymru site linked above, you can find more details about Traws Cymru network, which covers main long-distance routes through Wales on their website https://www.trawscymru.info
You can recognize these in general timetables because their lines numbers usually start with a "T", excapt Carmarthen/Caerfyrddin-Cardigan/Aberteif that's 460 and Brecon/Aberhonddi-Abergavenny/Y Fenny that's X43, no idea why!
You can buy tickets, paying with a contactless card if you like, right on the bus.
Examples of standard single tickets: Carmarthen - Aberystwyth £6.25, Aberystwyth - Cardigan £5.65, Cardigan - Carmarthen £ 5.10.
There's discount on Return, Day and a few other options you can check on their website.
Note: traveling on most routes on their network is free on Saturday and Sunday!
In addition to those, there's local bus services connecting smaller towns even though they usually don't run very often and only accept cash to buy tickets.
I'm sure there's more, but the ones I know are:
Additional note: every time I've been there, I also got offered lifts from Welsh-speakers or fellow Welsh-learners to reach or visit places. If you hang out in Forums and on-line groups or get in touch with people in the area in advance, you're very likely to get plenty of extra help!
ACCOMMODATION
Unfortunately, neither I nor other Welsh learners I have been able to find a website listing Welsh-speaking hosts, hotels and establishments. (Maybe we should do it then!)
Occasionally, I got tips from locals about cheap places not listed on the web.
Or sometimes they're even willing to offer a spare room to a Welsh-learning guest (this is a very welcoming land, see!)
However, if you don't have a car, you might just want to take some time to check the maps, because some places are very complicated or even impossible to reach using public transport.
In other cases they were full cottages or just for long stay-rentals so not the kind for one traveler stopping by for a day or two.
In any case, in low season you can find quite a lot of reasonably priced rooms on the usual portals.
Beware: not necessarily Welsh speaking, though.
To give an idea based on my experience, the average price for a room for one person (late January and September), was around £ 30. The most expensive accommodation, in Aberystwyth, £45 without breakfast, for this

: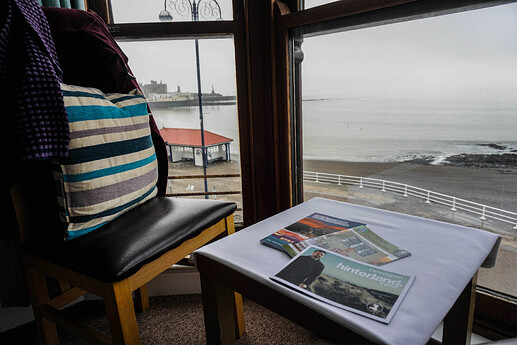 The cheapest in Cardiff: £ 18, including breakfast for this

: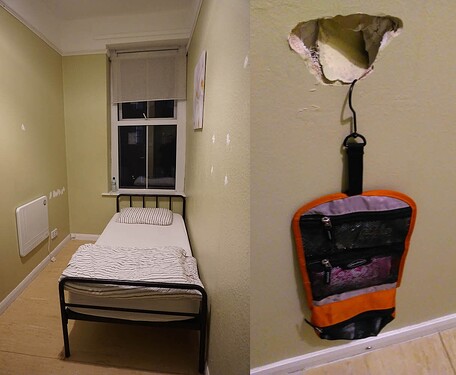 FOOD, SHOPS, LEARNERS MEET-UPS AND TOURISTY THINGS
For eating, there's really plenty of choice, in all different styles, type of cuisine and prices.
Maybe someday I'll write down a more detailed list of all the places I've enjoyed, for foodies.
For now I'll just list a few places where I got a chance to speak Welsh.
Adding a handful of shops
Welsh speaking staff:
Pantri Blakeman - Carmarthen: they enjoyed a chat and spoke slowly and helped me find words I couldn't remember
Fisherman's Rest - Cardigan: leaners' chat groups are held there regularly every Friday morning, so they're used to our fumbling.
Bar & Restaurant of Harbourmaster Hotel - Aberaeron: first time I've been greeted in Welsh first!
Cafe Hafan - Tregaron: if you speak to them in Welsh, they'll answer and go on in Welsh.
Bessie's/Dyffryn Arms - Pontfaen: Plenty of fluent speakers, and my first time being accused by an English-only speaker to be rude for cutting out of the conversation non-Welsh speakers

Crwst - Cardigan: not everybody's fluent, but there's always at least one or two speakers around
Welsh speakers hang out there, and they were happy to chat with me, so I guess also with other learners:
Sophie Bach Tea & Coffee - Aberystwyth
Bub's - Cardiff
Other places where you can certainly use or practice Welsh:
Awen Teifi bookshop - Cardigan: Say you're a learner and they'll be happy to hear your story, and get you involved in the conversation, since there's often people stopping by for a chat.
Siop Y Pentan - Carmarthen
Siop y Pethe - Aberystwyth
Castell Aberteifi + restaurant and bar - Cardigan
Amgueddfa Ceredigion Museum + tourist info - Aberystwyth
The National Library of Wales/Lyfrgell Genedlaethol Cymru - Aberystwyth
Learners meet-ups, groups open to everybody and all levels:
I've been at and enjoyed:
Enjoy, mwynhewch, buon divertimento!

If you have any questions, or would like to correct or add something…just let me know.