I'm a sucker for these Walesonline fun stuff things.
I haven't seen one comment on Facebook or Twitter where it has guessed correctly.
I got the north west. Not even remotely correct.
Nice, in a way though to know that I'm not conforming to anyone's stereotype.

I got north west…fairly balanced questions in my opinion.
Mine says I'm from the Valleys! Well, it's still south…
I thought Y Barri was part of the valleys - but I've never ventured that far south…If its like my Gog friend Gareth (Wales angriest man) says - "Gwlad Hwntws isn't really part of Cymru, Kim."… I never will. Never!!!
Not quite. We're pretty much south of the valleys here, but not too far away from there either!
Gwlad Hwntws yw ble'r Prifddinas Cymru yw, felly y mae mewn gwirionedd rhan o Gymru!
I tell people Cardiff's an administrative capital only and that Caernarfon is the official one. None of my friends here in Gillingham have a clue whether that's true or not…Right thinking people in Gwynedd agree that it should be…
Me too!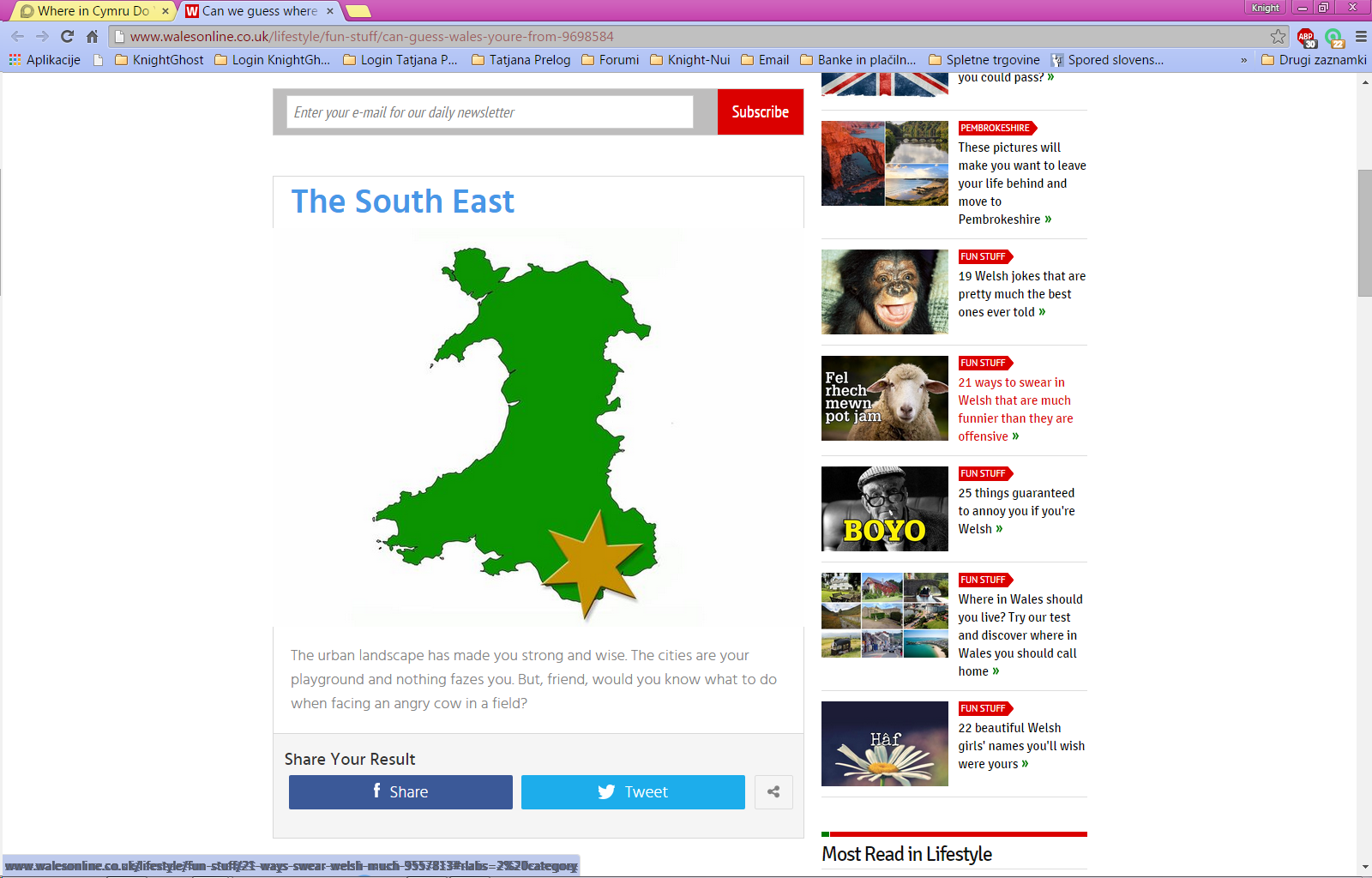 Since I'm not from Cymru at all, let's say it put me EXACTLY where I wanted to be (some time ago, now I'm not so certain anymore)

Would that be what I call 'Cardiff Arms Park' but is The Millennium Stadium?
p,s, The site with the questions kept advertising,so I gave up!
Let's say so.
And, I simply didn't put my e-mail in and they can't advertise to me. They put me through anyway.

[quote="dinas, post:5, topic:3029"]
(Wales angriest man)[/quote]
He definitely wasn't that the last time someone tried to get me on their side by being bigotedly rude about people in North Wales, knowing I was from the South! Why people think they can ingratiate themselves into my good graces by attacking my country and compatriots, I don't know, but It really turns my stomach. However, I managed to hold myself back to within legal parameters! He has, however, avoided me in the pub since then. Thankfully. He was a boring little git.
There is, of course, a difference between idiots like that and the affectionate tongue in cheek stuff, so I am sure you will be glad to hear that your friend is factually incorrect and we look forward to your imminent arrival

The siting of the capital is unfortunate. Well, maybe the point is that road and rail connections running North South are abonimably bad. Whilst that is the case, it might have made sense to have it somewhere in the middle, where it could be equally inaccessible to most of the Welsh people!

We recently had to have a meeting where most people were coming from Cardiff, but one was from Caenarfon - we held it in Llandrindod Wells for that very reason
Equally inconvenient for everyone. That's one of our proudest marketing slogans.

It's always the same offer even when half the people are coming from Caernarfon! It's as though the moment someone from Cardiff gets north of the M4, they start thinking 'Are we there yet?'…

And you soon will be…

Tried it! Worked! Diolch yn fawr!! Got The Valleys, which is actually technically correct, but not where I was raised and not where my accent or my Cymraeg is from!!!
Next to the Royal Welsh Showground in Builth would be good!!