I've never seen Adwaith do more than half an hour. It's about the perfect length for an indie pop set. Just enough to get your message across, just enough to leave 'em wanting more.
that was exactly what I thought when I saw Adwaith last night. What a brilliant gig. Gwenno was like something I've never seen before - she looks totally transfixed, almost possessed, when singing. She kept the attention of everyone in the venue. Even the staff who at first was a bit bemused by the concept of bands singing in something other then English said it was amazing by the end!
No poster for this, so it's a screenshot from Ffêsbwc.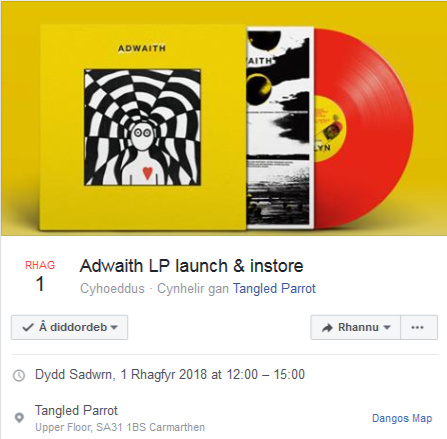 anyone know of any gigs happening in Aberystwyth on the weekend of 16-18 November?
Diolch
The only downside to Aberystwyth is a lack of gigs when compared to another town of its size. You do get the odd solo singer showing up in some bars, but very few actual gigs as such.
When you do arrive, I would recommend getting hold of a copy of "Ego" which is a free magazine given out in the Aber area in most shops and cafes, its got a pretty good listings guide in the back.
Luckily… I have a copy with me right now, so I can give you any listings (gigs or otherwise) in here for your weekend:
Friday 16th
Haka Jazz Night: 7 Steps the Music of Miles Davies. £10. Ceredigion Museum.
Abertoir: Aberystwyth Horror Film Festival. All Weekend. www,abertoir.co.uk
Cabarration. Aber Arts Centre
Noson Lawen. Theatr Felinfach.
Heart of Darkness, Aber Arts Centre.
Saturday 17th
2.15pm: Guided tours of the National Library. Book a free ticket on their website.
Chris Ramsey Comedian Aber Arts Centre.
11am-4pm: Lantern Making Workshop, Yr Hen Coleg.
Sunday 18th
Rob Kemp: The Elvis Dead, Aber Arts Centre - Apparently some type of zombie Elvis impersonator?
Didn't used to be the case and very odd for a University town. Any idea why?
I know, I'm not sure myself to be honest.
I remember as a keen NME/Melody Maker/Kerrang reader in the mid-late 90's, I'd always see Aberystwyth University show up on tour listings for bands that were of the sort of 400-1000 capacity size, usually with a Cardiff and Wrexham gig in the tour for good measure, but that seems to have gone by the wayside now.
I'm lead to believe that Stone Roses played their first (or one of…) Welsh gig here in the late 80s at the Students Union as well.
Sadly I think the "smaller venue" circuit in the UK does seem to be suffering overall over the last decade or so, whereas Arena sized gigs seem to be doing just fine.
Aberystwyth wise… I think there's less money around bands nowadays, labels are less willing to fund a band to go on tour for a year before releasing a debut album - so less of them are going to outpost venues like Aber Uni nowadays ,with less money about - a 2/3 hour journey from Birmingham, 5/6 hours from London with the risk of nobody turning up is probably too much for them…sadly.
Locally - I think pub/bar/club owners are less willing to take a risk on gig nights than they used to be. They know if they announce they are doing "quadvods" for £3, the place will be rammed. If they announce that some shoegaze band are doing a set, they'll likely be empty. Can't move for solo cover singers with iPad backing tracks though! There are hundreds of those here!
Thanks for the reply @Nicky I thought it may be a bit sparse for gigs. Guildford was exactly the same when I was there. It had a great past with gigs happening at the uni but it fizzled away before the end of my time there. I think it's a broader thing of social events not really being well attended: pubs, gigs, community centers, football clubs, and all other sort of past times which people did to entertain themselves. Nowadays you don't need to leave your little box other than to go to work and can be completely transfixed by netflix etc!
Indeed.
Its weird with Aber because only 18 miles up the road in Machynlleth a couple have taken over a fairly run of the mill chain pub, but have made it the "go to" for rock gigs in mid-Wales as of late. They've had a few "names" playing the pub over the last month or two, nothing that has been to my taste yet - but I do want to check one out soon if train times permit.
Guildford surprises me, as its a bit of a musical town isn't it? Isn't there some kind of music college there?
You are right and actually to be fair to guildford it does get gigs coming through the boiler room, but the other live venue called The Star has had a noise abatement order from the council due to a new block of unaffordable flats being built near by. It's a shame cos the local council have sold out one of the last live music venues for a block of luxury flats. The youth center was knocked down for more flats and nothing to replace it. Same story everywhere I guess.