Yeah, I'd love to go, but for lots of reasons I can't.

The gig / beer festival to launch ticket sales for Sesiwn Fawr in Dolgellau (in July) is THIS WEEKEND.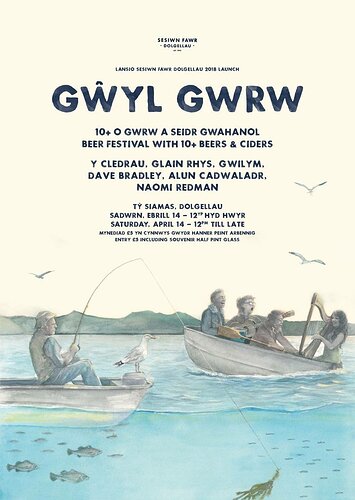 I was shocked, shocked to discover that this hasn't sold out. It's on Friday. Come on Cardiff people!

Unbelievable. I'm going, are you? is anyone else? Can we organise something SSIWy for peeps who don't know each other yet / gig buddying?
Try asking in the gig buddy thread and see what comes up - you never know!

Yes. Angela and I are driving down after work. See you there!
So this happened:

Bendith, including Colorama, Plu, and additional Saron and a bit of Cowbois Rhos, too.
It's happening again tonight in Pontio, Bangor. Get down there if you're up north tonight!
Cabarela will be performed in Theatr Felinfach, Ceredigion on Friday night - April 27th.
Theatr Felinfach, 8.00pm (doors from 7.00)
Following Cabarela's huge success in the National Eisteddfod in Anglesey last year their sights are set on Ceredigion.
The three sisters from Aberystwyth, Sorela, will be introducing an eclectic mix of artists for this extraordinary evening of Welsh language humour, wit and satire.
From the queen of the small screen, Maggi Noggi, to the electrifying voices of the Divas and Diceds to musical satire from Hywel Pitts. Don't miss Ceredigion's first Cabarela!
Online booking here, or phone Theatr Felinfach on 01570 470697
These are some I've got booked in North Wales over the next few weeks:
Alys Williams and the Band at Theatr Clwyd, Mold (4.5.18)

Catrin Finch and Seckou Keita with Gwyneth Glyn supporting at Pontio, Bangor (17.5.18)
https://tocynnau.pontio.co.uk/online/18Finch
Lleuwen Steffan with Gwilym Bowen Rhys supporting, Galeri Caernarfon (15.6.18)
http://www.galericaernarfon.com/beth-sydd-mlaen-selected.php?show-id=873584076