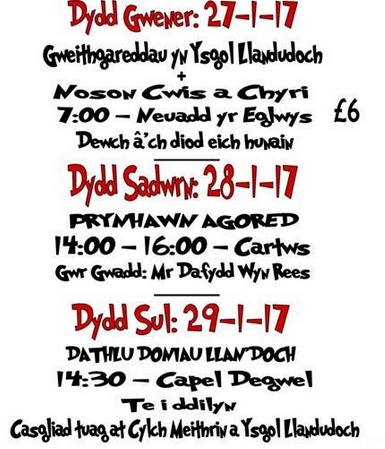 Ooh, Llandudog is lovely! When we were there, we stayed at Oriel Milgi, partly because it's dog-friendly and partly because friends had told us how nice it is


http://www.orielmilgi.co.uk
I think the owners are learning Welsh (although we didn't speak any when we were there).
Just a suggestion, if anyone was thinking of going for the weekend…
UPDATE: Apparently the Quiz and Curry night has been changed from the Friday night to the Saturday, if anyone is thinking of going - same time and place.
HI, what level of Welsh do you need to attend these? Is it for speakers or learners?
Diolch
Ann
The advertisement came in an email list for learners, but I don't know a lot about it. I imagine there will be a mix of people attending. I'm hoping to get along myself, but I have a few things happening around that time so I can't be sure yet.
If it's easy for you to get to I would pop along to the free events and see what's going on, then decide if you want to join in anything else. The quiz could be fun!
Thanks but I live in Coventry and would have to make arrangements back here in order for me to get there for the weekend so I need to know a bit more. No worries. I'm probably wanting to run before i can talk!!