…might have to drop whirlwind from the press release headline!
Yes there is a certain something about it…an Italian on a Vespa, pootling around Wales talking to Welsh speakers …I think we should start on the script!!!
Think of the exposure for SSIW!!! It will be great
Rich

OK; here's the deal. How about:
A Henry Cole type character (preferably Welsh speaking) pops over to Skewen. Transforms my little garage into a fully kitted out state of the art workshop. Rebuilds my Norton, all free of charge of course. Gisella borrows it for a whirlwind tour of Wales.

There could be a Datblygu soundtrack…touring Wales seeing interesting things and learning about the history…scenery, Welsh Princes, history of the language including the Welsh not of course…
…you could even meet up with Datblygu and co- author a track in one episode - it could be called "I'm going to run across the grass so that I don't get left behind…".,
…just remembered I have forgotten to take the blue pill this morning!
Rich

Sounded good until that last bit John!
Love the idea John, but not sure I could wrangle that kind of budget from S4C!

(but if I could, I'd get them to do up my dad's scooter, too https://www.flickr.com/photos/59489479@N08/7050590615/in/album-72157626598392682/ )

…but I suppose you would have a workshop to fix it afterwards!
OMG that's perfect - do we have the scooter now - does it still exist?!
What about a motor assisted bike that you can take on a train for longer distances.

.
It still exists but I doubt it works. Been in a shed for over 50 years! It's still so cute though

It's very, very cute.





p.s. I'll be back later to answer, but in the meantime you can go on with the craziest ideas!

This thread is fun!

What about a SSIW relay with folks offering to transport you on approximately 10 miles (20 mile return journey) from near to where they live I'm 7miles from Welshpool. This could be with various forms of transport, agricultural, narrowboat, tandem, horse, etc. Think of all the paneds, bara brith and cawl that you could consume together with a multitude of accents and experiences.
In practical terms, I suspect a small car is going to work best, especially as you can easily dump a load of stuff (maps, guidebooks, food, presents, what-have-you) in it and keep it (and you) dry.
Perhaps in addition hire a (pedal) cycle for odd days in certain places that lend themselves to cycle exploration.
Twrist…dim pwrist inside the dust-jacket…

Slow, but still not for the faint of heart…
Edit: my phone still gets confused with Saes…
@JohnYoung Wow a Norton around the UK would be cool.
Also @siaronjames's dad Vespa is cool!
But I have to choose: rocker or mod?

For an Ape like @robbruce suggested, I don't know.
But for easily available scootas…here's a couple, to start with…


Sober and classic?
Or bright and modern?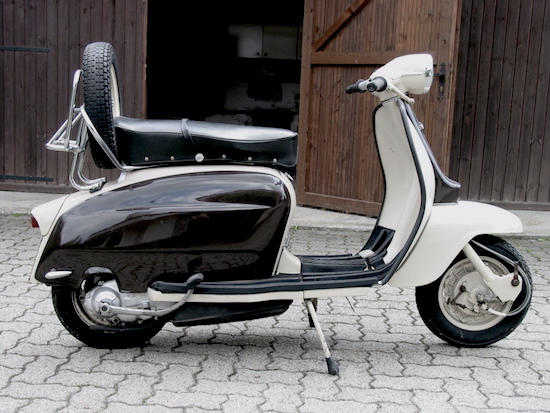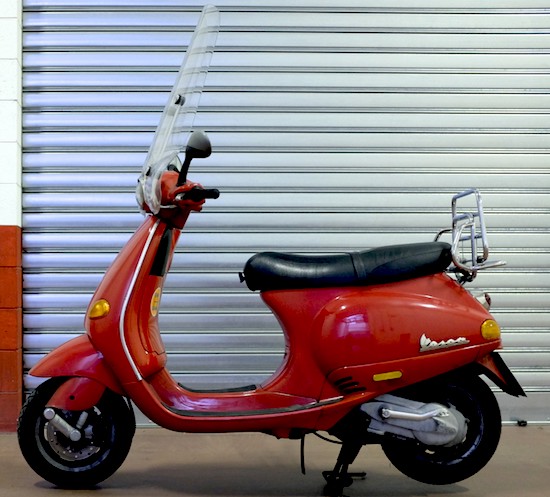 @mikeellwood, yes a car is more practical, but way less fun!
@Gog I like cycling, but definitely not in shape enough to tour such long distances.

I guess I'd rather go for @Tricia's ideas if it has to be ecological.

However I guess Italian on scooter is a bit more in line with average expectations, right @siaronjames ?
But please, no mandolins and opera…
For music…of course I'm totally with @rich!
…and the title!!!


To add a Datblygu touch in the SSiW quote:
"I'm going to run across the grass (that I watched grow up) so that I don't get left behind…".,
But please, no mandolins and opera…
How about this as a stereotype, then? Of course, I assume that you'd be driving with "un bello ragazzo" riding sidesaddle in the back.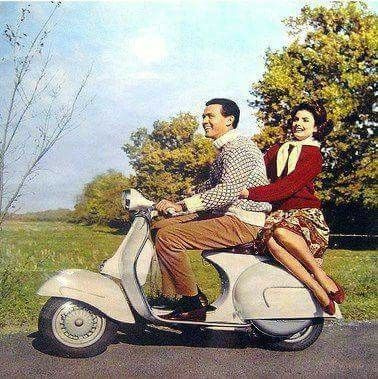 Maureen, my wife was a "mod" rather tnah a "rocker" in the 60s and had a boyfriend with a scooter - of course.
I bought my last motorbike (Suzy Katana 650cc) for my 60th birthday. I finally realised 4 years later that it scared the **** out of me and sold it.
Beic trydan? Electic bike - really a pedalec - when you pedal you get somepowered assistance!
Right, @HuwJones I should get a scooter chauffeur and ride sidesaddle!


Talking about stereotypes, I wouldn't think of you as a Katana kinda guy…in fact?!