ha I fully understand why, I too am still digesting the last few.
Hi all:
I don't know if this is a bug or if I'm just being impatient; but I can see the Advanced menu item on my Android phone, however, when I click on it, it says, "No Lessons Available." I am doing the Northern course, so that's not the issue; and I can access the Advanced content on my PC.
Any ideas? Diolch!
I can tell I can't see the Advanced content myself on the Android app - I remember reading at some point it might need an update in order to work.
However, downloading the audio files or listening to them from the browser (just like on the computer) worked alright for me!
Think that might be a 'needs a fix when time allows' kind of thing - @jamesmahoney?

It needs a change of some sort.
Either to how the advanced content files are arranged (to copy the method used by the growth club content since that appears in the Android app), or I alter how the Android app behaves specially for the Advanced content.
Neither has happened yet since only about 3 people have expressed minor irritation at being unable to access the Advanced stuff via the Android app (and one of them is me, and I'm getting on quite well with listening to the advanced stuff via Amazon Echo).
I guess the moral of this tale is that if you'd like to access the Advanced content via the Android app it's time to get shouty until either I, or @Kinetic, tear ourselves away from the boxset of Sam Tân long enough to change something
I suspect that I may be one of the "about 3" but if not, as per my comments of October last year, I still find it irritating to have to do a workaround (especially when iOS users don't).
I do most of my listening while walking and having the advanced content (including the transcript?) available in the app would be really useful.
At the moment you all seem to be talking about difficulties accessing advanced content with Android. I still can't access it using my iPhone app. However, if I go direct to ssiw via Safari then I can download easily and listen on the go. It would be useful though to do it straight from the app. Any chance that might happen- or am I just being stupid and missing something? Thanks.
@kinetic - can we get this on the 'to do' list ogydd?

Tagging @lewie for input on if this is same/different with iOS…

The advanced content is available in the beta of the iOS app. To join the beta, see this thread:
same … it's either update the app, or update the website. Doesn't bother me which way we go on this. The necessary change to the app (already implemented in the beta version) is pretty straightforward… the info on the advanced content is already provided by the website API, it's just tucked away in a different corner of the JSON than the apps have been trained to look.
Hi I've got an android and having trouble accessing the advanced content through the app. I've been advised to log in and out, reinstall the app. I've done both and still can't access the material. I've read a few threads about changing from South Wales to NW and I've done that but still can't access the material. Please advise
The android app doesn't currently show advanced content.
But the same method you can use on a computer (basically, using a browser, like Chrome) works fine with Android phones. Are you familiar with it?
Many thanks Gisella. What a shame I can't do it through the app.
I'll see how I get on
We're going to get it supported in the app before too long - just need some code changes to the website to make that possible, as I understand…

Thanks Aran. Good to know that
I am not able to access the Advanced content with a message appearing saying no lessons available.
I would like to keep my momentum with the lessons so would appreciate help tp get the Advanced content on my android Samsung Galaxy S8
Hi des,
If you have internet/ Wi-fi access on your phone you can pick it up via a browser. Go to the SSIW website in the browser and log in.
You can also save the mp3 to your phone so you can access it anytime. See image below.
Let me know how you get on - I can help if you need it.

Rich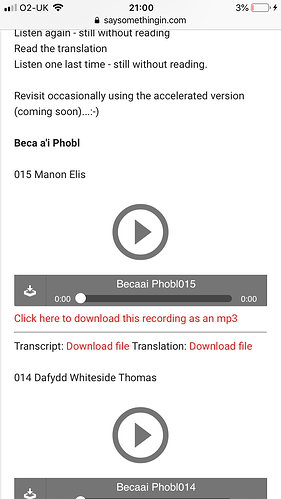 Hello Rich
I have worked through the 3 Levels with no probem using mp3 player but no Advsnced content available
Regards
Des
Hi Des,
Yes I think the advanced content doesn't display in the Android app yet - it needs a tweak which is still on the 'to do' list.
But there are a couple of ways of getting round it…
you can go to the SSIW website on your phone using a browser. If you log on using your SSIW user and password and go to the Advanced content tab you can actually play it from there - plus there is a link to download the file as an mp3 (shown in the image in the post above). This is quite easy to do - I could help you through that if required.

An alternative if you use Google Drive and have it on your phone is to use eg your PC or Mac to save the file to your Google drive using a browser . Easy if you are a Google drive user - if not option one is provably more straightforward.
Rich

Morning Rich
I have managed to get Advanced mp3 files onto my phone and this may be a way for others who like myself can use a pc but have no great technical knowledge
Connect phone to pc
Using Browser on pc open SSIW and log in
Click on Learn (in banner) and click on Advanced Content
If doing this for first time then scroll down to the bottom
Right click on "click here to download this recording as a mp3"
Click on Save link as and save wherever you want (I put on Desktop)
Close SSIW - Open File Explorer and drag and drop the mp3 file to the phone
Hope this may be of help
Regards
Des