I have just booked to have a blow dry in One.A for the party on Saturday night!
Diolch eto.
Brilliant!!! Angharad and myself will be there on Thursday afternoon.

I'd say that's pretty close to expert level for a death metal drummer…

I can see I'm going to have to set some funds aside…


Likewise, though I didn't anticipate blowing my whole budget by arriving early on the Friday. Anyway, looking forward to seeing what @CatrinLliarJones is suggesting for the rest of the weekend…
Sorry folks - been a bit snowed under - many thanks to everyone who's responded in here, and to @CatrinLliarJones in particular…
We've now pinged people on the waiting list with the handful of spaces spare… we'll be pinging everyone else for the rest of the payment next week, and also going into full on 'Oh my word this is actually happening let's get all this stuff DONE' mode as of Monday…
Oh, good! I was beginning to worry that we would already be in transit before you got to "getting this stuff DONE!" Looking forward to being in Wales for a few weeks!
Fantastic advice, Catrin! Any idea on where in Caernarfon I might find a Wales rugby jersey in a women's cut . . . ?

If there is no Caernarfon outlet, there are, of course, a number of online shops. The WRU sell them here. There only seem to be sizes S and L currently available. They claim to deliver to the states in 1-3 days but if it helps, I could buy one and hand it to you between the Friday afternoon and Sunday morning in Caernarfon.
"Siop na nog" in the centre of Caernarfon has a lot of clothes in stock upstairs most, if not all, are Welsh themed. There's a bit more choice in Bangor.
I found them (rather, they I) on Twitter. They look grand!
Diolch for the offer, Huw! I think though I'll leave it as something to have fun looking for around town.

And thanks for the lead, Gruntius!
Thank heavens… we've been in Japan for a few weeks and I was worried we had missed the request for final payment.
Ping away please, because we will be leaving Vancouver in a couple of weeks for some hiking in Snowdonia beforehand, then going down to Cardiff (presumably by train since the buses take forever) after the anniversary celebration.
Exciting eh.
Hwyl,
Mari
Oh, @MarilynHames I'm extreamly happy for you visiting Wales! You'll have a great time for sure. What about the "book" "A true storyteller comes to Wales"

Cael lots o chwyl!
Tatjana

Bless you Tatjana,
I do hope you will be there too. I have so wanted to meet you and thank you in person for the amazing help and support you have given me. If not, I will raise a glass to you

Diolch yn fawr iawn!
Mari
Unfortunatelly raising a glas to me is all you will be able to do because I shall not be there. However you've thanked me so many times already that there's no need to thank me again but yes, I'd love to meet you in person one day too.
Chiers to you!


Tatjana
Hi @aran
I've been offered work starting in 5th June, which I have accepted.
This coincides with the week following the parti penblwydd.
I'm coming to the parti and would like to stay on the post parti 'bwtcamp' but will now have to leave on the afternoon/ evening of 4th June.
Does this pose a problem? Do you know what the arrangements are for the parti and the bwtcamp?
Diolch
Well, I expect I'm not going to be ever so formal for the formal evening, but I've got myself sorted for the hog-roast… My partner found some dark green fabric in a haberdashery in Porthmadog, printed with dreigiau cochion, to make me a T-shirt with

(And if the one on Stryd y Plas still has cushions in the window made out of the same fabric I shall really blend in!)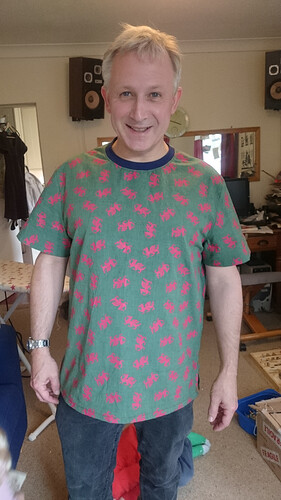 Llongyfarchiadau a