Hwreeee @Cetra

Do achos est ti i benwythnos Bethesda @RichardBuck

Shumae Nia, Dw i'n dysgu ar lefel 1 gyda SSiW.
I'm really not sure if my Cymraeg is good enough to mingle with Level 2 veterans. Beth wneud ti'n meddwl?
Diolch,
Gareth
Dwi 'di gneud fy archeb / order. Dwi'n mynd yng Ngaernarfon blwyddyn nesaf! Dwi'n hapus iawn.
Dwi 'di dysgu llawer yn ysgriffenu ar y wefan! / website!
Hwyl am y tro @nia.llywelyn @Cetra
Wedi archebu rŵan
I've signed up too! Really excited

I'll be driving so could help with lifts as well if needed.
I have also booked my place. Looking forward to it and to meeting everyone.
Jump in! You've got nothing to lose and your Welsh can only benefit, even if you do a lot of listening, but there is always a variety of activities so you'll learn from doing

Apparently there's only 4 places left on the course!
Get cracking if you want a room to stay in Llety Arall or of course, if it's too late, there are other accomodations, but they could be more pricey

At this rate they'll be all gone before I can remind people in the next newsletter!! It's turning into a mini SSiW Bwtcamp

That was a challenge and I'm not convinced I pressed the right buttons but I got a message back from worlpay saying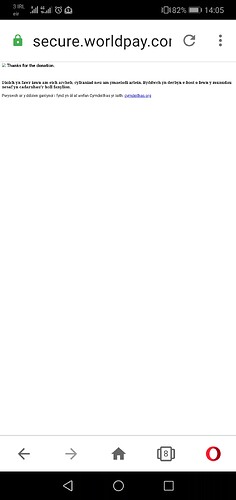 Do you know if this means it's accepted my playment or have I just pledged a donation to the Free Wales revolution

I think mine said that too – the text says thanks for your archeb (order), cyfraniad (donation) or ymaelodi (joining). They'll probably send you a more personal e-mail soon too.
Do think about joining Cymdeithas though – it's only £1.50/month and they do good work!
Your name is down @gjpearce, I've just seen the list.
I'll make enquiries now @gareth-mitchell

Your order did go through successfully @gareth-mitchell
Dim lle ar ôl rwan/ nawr

So looks like we've got @Cetra @gareth-mitchell @elizabethliney @RichardBuck @sue-21 and @nia.llywelyn (in an official capacity!) at least, maybe more!
Does anyone want to keep in touch, coordinate lifts, siarad Cymraeg – and avoid annoying everyone on here who isn't going? Maybe a whatsapp group? Happy to coordinate, DM me your number if so.
I'm planning to head over there a couple of days early to make a longer holidayspeak more Welsh

I'm happy to do that but where are you located. I'm in Hampshire so was considering a drive. Initially was going to by ferry because I work in Dublin but not sure if I have a contract for 2020 so I'm looking at alternatives. WhatsApp sounds a good idea.
I'm in Cambridge – I doubt anyone else is coming from here (or at the same time as me), but happy to help with pick-ups in the local area e.g. Bangor/Caergybi/etc. if anyone isn't driving.
Scraped through by the skin of my teeth then.
I've just bought a train ticket, scheduled to arrive in Bangor 17:40 on the Friday but gawn ni weld - I'd be happy to scrounge a lift if it's convenient, but I'm equally happy to sus out bus times or attempt polite conversation with a taxi driver. I'll DM you my number in case it's useful for attempting to co-ordinate.