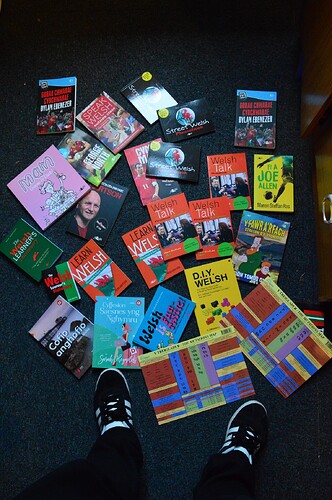 OK, so as my reward for getting into the final of Dysgwr y Flwyddyn, I was given a trophy and a cheque for £100. So thanks to the Eisteddfod for that!
I didn't really want or need either, as the amount of people I've encouraged to start learning Welsh has been more than enough of a reward for me, and even if I went on and won - this would just be a £300 book giveaway, or maybe a £100 book giveaway and putting a couple of people through a 6MWS course or something!?
I gave my trophy to Siop y Pethe in Aberystwyth for them to display, as they've been awesome with me over the last year and a half and have really been like a second family. I wanted to give the trophy to SSIW, but I knew that @aran and @iestyn would've objected, forced it back into my hands and told me off!

The moment SSIW gets a standard office, the award can go back to them as rightful owners

So, with the £100 cheque, I debated what to do with it - I toyed with giving it to a charity, but I struggled to find a charity specifically for the Welsh language - there are some candidates out there, but they don't really come under the "charity" umbrella.
So, with that in mind - I just went down to Siop y Pethe first thing this morning and bought £100ish worth of books and materials for learners that I'm now going to give away to learners for free.
Big thanks to Siop y Pethe for giving a discount as well, which meant that my £100 stretched further than it normally would've! They've essentially given away 3/4 books here by taking part, so massive thanks to them!
I'm just taking a register of what I actually bought, but if there is anything on this forthcoming list you would like - or if you want something for a friend, please let me know and I will try and sort it out for you

Only rules I would say are, please use them to encourage our language to grow. Once you've read and used whatever you've grabbed, I would be really chuffed if you could pass on your books to someone else who is just starting their Welsh language journey…
If you see something you want, send me a message and I will aim to please. I can either give you the book in person, or if you're happy to send a SAE to me I can return it to you - or if you're willing to make a charity contribution to a suitable Welsh language based charity for the amount of the postage, I will happily send the book out to you
As of 16/08/18 Everything has now gone…Thanks to all who took part!