Here's a link: http://www.brgcardiff.com/2017/01/18/welsh-club/
Here's the details in handy poster form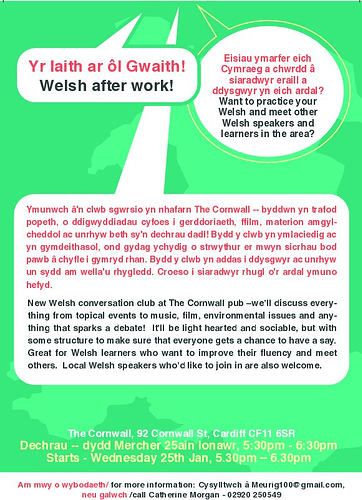 Great to see someone getting something going in The Cornwall again. I went to a few early meetups there when I still lived in Treganna - an easy bike ride away - and it had a good atmosphere with quite a few north Walian accents about the place. The bar staff at that time were very supportive of Welsh too. I hope it really takes off and becomes a hub for Welsh in Grangetown.
Is anyone willing to be the SSiW contact, i.e. planning to go regularly and be a point of contact for any very new SSiWers that might initially feel nervous about going along?
I'm moving to Treganna next week. I'll let the dust settle and then hopefully go along. I'm not sure how regularly but I'd be happy to be a supportive contact if not the main contact.
Good luck with the move. I really enjoyed living in Treganna - Hamilton St. My neighbours were Welsh speakers and I often heard parents chatting with the children in Welsh as they walked down the street. Shame The Duke closed down though. The Clwb y Diwc was a great asset to Welsh life in the area.
Would be interested in occasionally going along if it takes off, but unfortunately would probably struggle to get back by 5:30 most weeks (I also live in Canton but work in Cowbridge)
Tried the Monday evening group at Chapter for the first time this week also, seems good when not clashing with the SSiW one
Cheers Dee!! Can't wait to move!
I live in Grangetown and will be going tomorrow (1st Feb). Looking forward to it… Although I always feel nervous about going to these things!
Anyone else going?
I didn't make it to Clonc yn y Cwtch this week. Went the week before though. May see you there sometime
Sounds good. I'll head over today - will also mention it at our office's Clwb Cinio Cymraeg today

I'll be there tomorrow from 6pm… It was really good fun last week.
Ye, me too. See you guys there again
Just posting this to re-publicise. This is an ongoing weekly Welsh chat with a friendly bunch and you can even get a beer for a mere £2.20. I've been twice now and trying to make it a weekly thing. + Really good chippy on the same street!
I now have singing lessons on a Wednesday so I won't be able to make it for a while
You're really taking this Welsh thing seriously, aren't you

Actually, the amount of singing I seem to get myself into, I'm thinking I need to do the same!
It's less "when in Rome…" more "how far can I go to become Rome"
If I get somewhere with these lessons and I can actually sing, I would love to join a côr meibion.