Well there is a desire to improve and as i have been around here for four years and have not completed course 3 i feel i'm in the slow lane. (those short forms will integrate when they are ready i guess). That's my excuse but of course it's also true to say i keep getting side tracked.
There have been a few people over the years that have mentioned reading and writing by the end of course 2 and yes i got a wildlife book and that was me off on a tangent.
So what am i doing to try and progress, Early in the month i was in pwllheli and went in a book shop and came out with four books, one has been mentioned in the whats outside and here are the other three.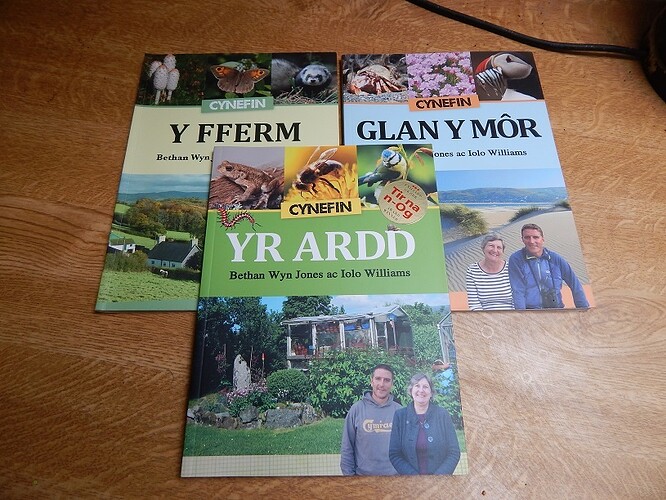 Not huge, about 65 pages each but oh so interesting to me.
So right or wrong i have started translation of said books. that is i am half way through one.
I copy a page handwriting then pin the paper in front of the computer, Then type the welsh into one column of a two column spread sheet.
I can then use copy and paste to put this into G translate and check for spelling mistakes (mine) and words i don't know. now i can copy the English translation and paste it into the second column of spread sheet. Repeat process for next page of book.
Sure it takes time, and i will be lucky if i have all three books copied by the new year, but i'm hoping by then i will be able to return to first book and read with a lot more understanding using my translation as little as possible.
I'm not for one minute suggesting anyone should copy what i am doing, but just maybe those who think they are slow will take some comfort from my speed.
One problem i can see is my lack of conversational practice especially in subjects like pel droed a hywlio ar y mor will still be a hurdle, i guess i can make jokes about pysgod yn yr cysgod for the benefit of fishermen. Oh well, way to go yet.
What i should add is that i am learning new words, but as much as that is good i'm also coming across a lot of word modifications (mutations and variable endings ), i'm finding that SSIW is so good that these are not a worry, just oh that's how it is and try to remember a bit more.
Cheers J.P.