Same!

Glad I'm not alone Jackie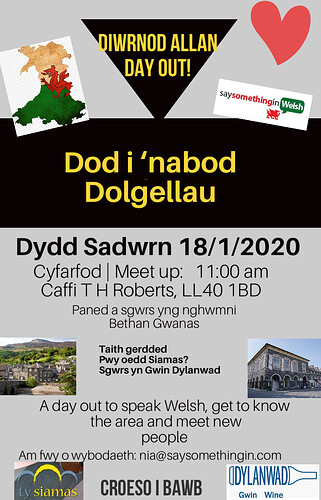 Programme for this Saturday:
11:00 am meet up, T H Roberts.
11:45 am taith hanes Dolgellau history tour
12:30 pm cinio
1:15 pm ymweld â Ty Siamas
2:00 pm. Sgwrs yn Gwin Dylanwad
Diolch yn fawr iawn, Nia! It was lovely to meet everyone in Dolgellau today. I will definitely try to get to more of these SSiW Days Out whenever they're reasonably near me.
Yes, thank you Nia for another lovely day out. Really interesting and also lots of fun! And great to meet people and siarad of course.
Diolch am y diwrnod Nia, oedd yn dirwnod gwych.
Thanks for the day, Nia, it was an excellent day.
Diolch I bawb hefyd, hebddo chi, dim diwrnod gwych.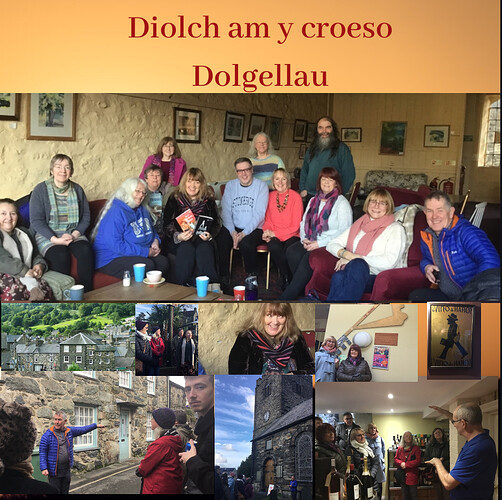 [quote="nia.llywelyn, post:263, topic:18081"]
Thank you everybody who came to Dolgellau today and especially Bethan Gwanas, Ywain Myfyr and Dylan Rowlands for making it a very special day
[/quote]
![image|366x500](upload://nRaK8B9YwYUlHeczpJu8QLqYRGE.jpeg
Postponed for the time being
Great I'm coming. I bought my first copy of the Mabinogion in a second hand bookshop in Hay on Wye as a teenager when perusing the shelves. I didn't know what the Mabinogion was at he time - it was a real find!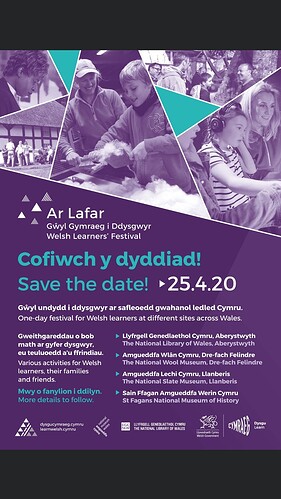 ****There will be a change to April's Day Out, since Ar Lafar are also organising things on the same day ***
Ebrill | April 25 - No Day Out * .Supporting AR LAFAR day out in one of their locations.
New date for Cricieth - Medi 19 September
Oh… What happened to the 28th March day out in Aberystwyth? Is it still happening please Nia?

Yes, but it's to do with the Post Card Club … the AGM.
Will you be wanting to stay in Aber? I'll make enquiries @annmoore.
I'll ask people to express interest on the PostCard Club link

@nia.llywelyn
Oh yes, I remember now. I am already booked somewhere that week thanks Nia. I will be able to come, as we are not going home until Sunday 29th.


@nia.llywelyn
***This month's SSiW Days Out in Hay on Wye will be the last one for a while. I'm sorry if you were planning to come to the ones mentioned from March - July.
We will be reviewing this type of event in the future.
It has been a pleasure to do all the events leading up to this month and thank you very much for all your support, Nia
Thank you Nia. The ones I have attended I have thoroughly enjoyed both in terms of the people and places. xxx
Wholeheartedly echo @aliC comments @nia.llywelyn. Although I only managed to get to two they were thoroughly enjoyable and the first completely nerve wracking at the same time. Another breakthrough moment just plucking up the courage to go. They must have been a huge amount for you to organise Nia so diolch o galon for making our days out so very interesting.
Aww and we were so looking forward to you coming to sunny Port Talbot too
It has been great to meet and get to know you at St Fagans and at the Bryn Fon gig tho…