Diolch @neilrowlands am dy help, ac edrych mlaen i weld ti @annmoore

Well, it was an awesome morning here in Swansea, with around 20 SSIWers here having a coffee with other learners and speakers in Tŷ Tawe's Siop Siarad. People from afar as Birmingham, Canada- and Brynmill!
It was great to talk with you all, and thanks Nia for organising- I hope that these pop-up events will become as popular and well-utilised as bootcamps.
Ie, dwrnod gwych diolch i gyd o SSiW & Ty Tawe.
Edit - Sorry, getting carried away:
"Yes, a great day; thanks to all at SSiW and TY Tawe"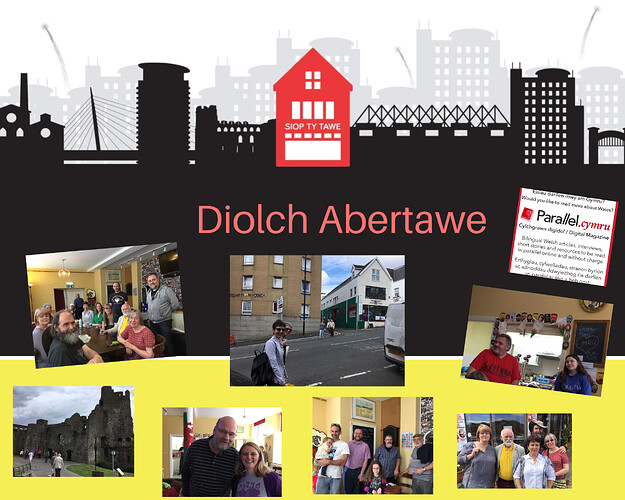 diolch
@neilrowlands
a Tŷ Tawe am ymweliad arbennig iawn.
How did I not notice these earlier? What an excellent idea! Not sure I can make Merthyr, but Conwy and Bethesda are local to me, now that I live in Arfon, and Machynlleth should be quite a manageable day trip.
(I would also happily drive as far as Merthyr, but probably cannot afford the extra time out with stuff I am busy with for now …)
@Bob July Day Out will move location to Llandudno now.
More details to appear very soon…
Syniad gwych! Dw i'n diddorodeb yn mynd i Machynlleth. Diolch yn fawr. [quote="nia.llywelyn, post:17, topic:18081"]
diolch
[/quote]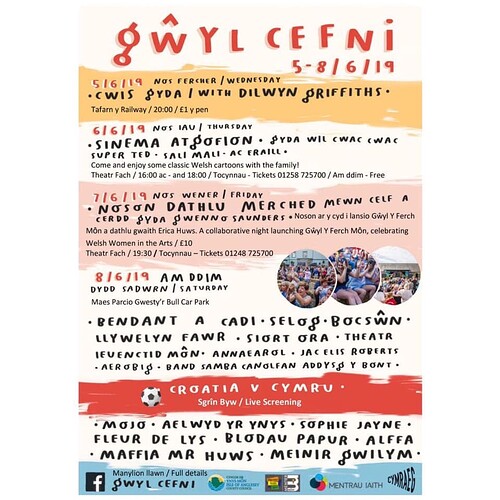 last minute MEET UP in Llangefni on Saturday if anybody's living in the area!
4pm in The Bull, Llangefni. (Ask for the executive suite, it's upstairs somewhere)
Gŵyl Cefni is on, and everything in absolutely FREE! !
Please let people from the North know @Deborah-SSi image|500x500
What are these meetings about? Sorry new to this forum but I'm in Llangefni! Is it a chat in Welsh for learners thing? Diolch
Welcome, Sonja. It looks like you're having a local Welsh festval and SSiW are supporting it by means of a "Day Out' for anyone who wants to attend.
More generally, as you say, these are events where we can practice our Welsh and get to know other learners and speakers. There are regular meetings held throughout Wales and further afield, around the world. These could be anything from coffee mornings to festivals.
So Nia of SSiW works with the organisers of these events to give extra support to a different event each month.
@sonja-davies , diolch, yes the idea tomorrow was to meet up for a welsh chat at 4, a little short notice but it will be worth visiting Llangefni tomorrow I'm sure for everone who's learning welsh.
Days out are full days activities arranged by us with a similar objective, to get to know what's happeining through the medium of Welsh around you/ different locations

See you tomorrow hopefully. No worries if not, I' ll be there anyway
Diolch thats brilliant. Hope I can make it!
So sad I missed it. I can't make the next one either as its the same day as our Gorslas Carnifal and a big cycle race!
Is there a list of the next few days out?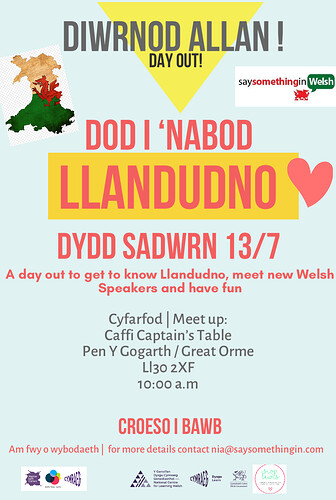 next month's day out has been confirmed and will be in Llandudno ( not Conwy as originally planned…this time)

People coming to Merthyr today please don't follow the postcode…follow the brown signs for Canolfan Soar , diolch
To be fair, it took us straight to the smaller quiet car park. Anyway, these days out are such a great help. Diolch Nia. Oedd hin diwrnod mas gwych. So much packed in to a few hours and great to hear local Welsh speakers.
Diolch @JohnYoung thanks for all your support. Ble mae'r lluniau ?