Very recently, I have gone from not knowing that I had any Welsh ancestry, to discovering a whole Welsh backdrop to my life.


I've managed to follow my Grandad's line back to 1789, and found the farm that they lived and worked on, about 20 miles north of Lampeter. Last month we travelled to the area, and I found 'my farm'! I spoke to the farmer and he gave me lots of information and leads to follow. The whole journey has been heartwarming, and exciting and sad too.
In any case, this is a photo from the Ceredigion Archives of 'Haymaking at Glanrhos' - 'my farm'!
Whilst I think this is most likely the family that took over from my lot (who were moved to a smaller farm by 1895) I know that they would have got the hay in just like this.
The photo is not dated - anyone like to hazard a guess as to it's age? I know little about farming fashion (apart from the fact that it probably moves slowly) or cart wheel history. And I know horses were used right up until WW1, so that doesn't narrow it down much!
Any ideas or observations very welcome!
(and I just really wanted to show you all what I had discovered

)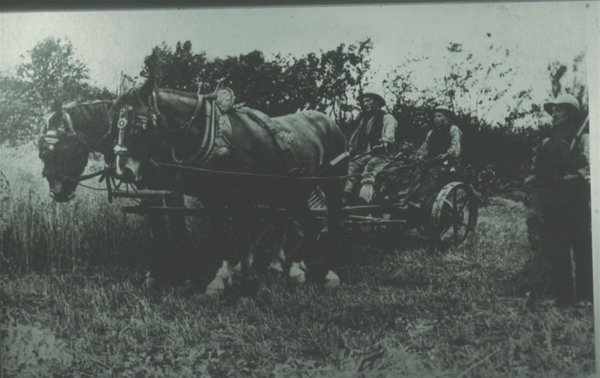 Has anyone else discovered links to their past whilst they've been SSIWing?