Had same and shared.

I have to admit Italians seem to appreciate my effort - when they don't mildly tease me.

But don't seem so inspired to do the same!
p.s. Did you get Fugazi right next too?


Ha yes different for me sharing as living in Wales.
No Fugazi though.
Can't say how grateful we are when people share - every share brings our ad costs down slightly, and makes it possible for us to reach more new potential learners…

Ohh, I'm getting these already for quite a long time but I'm ALWAYS happy to see these things. If you look up the time it was published, you'd see no time there but the word "Sponsored" which means it's add and FB knows already you're learning Welsh and possibly you're learning with SSiW. You know that those who are "in the house" are the best in sharing and promoting so here we go.

I share every time I see. This is fun (at least for me) and if it brings some aid to the @aran's, @Iestyn's & Co. effort to promote the business and Welsh language, that's even better!
And, yes @gisella-albertini I see Italian things occassionally but that's probably because I follow 3 of Italian rugby sites among which one is for kids learning, training and playing rugby.

Italian rugby kids are really bywog, cheerful and happy especially when they have the occassion to play in the mud.

From the both pics I can see why you get Fugazi along with SSiW. Look at the pics. Aren't they prety similar? Pics recognition obviously works very well on FB.

Yes I know it's an ad, but Facebook usually plagues me with ads of things I don't care about (including insurance for American expats)

It took a while but it realized I look for Welsh-related things and sent me this. However while taking the screenshot I lost it and didn't have time to see the video not share ore even like it. :-I
But it will be back someday.
Yeah SSiW and Fugazi pics match just fine!
Rugby in Italy wasn't so common until maybe ten years ago or so? I've never seen a rugby match, to be honest! I'm not sure Italians are so good at it, are they?
Well, they play in 6 Nations with Wales, England, Ireland, Scotland and France so they must be that good.
But yes, they're not as good as Wales, England and France but, like the Scots aswell, they are getting better and better from year to year. They're as feisty in rugby as they are in basketball or football (soccer). Azzuri all the way no matter where you put them.

As @tatjana pointed out they now play in the six nations and have improved somewhat since their inclusion. They have claimed some famous scalps including beating Wales twice and drawing once. They obviously need more people in Italy to take up the sport to have more talent to choose from.
I'm the meantime if your not planning on coming to Wales anytime soon for one rugby weekend Wales will come to your country. Get yourself a ticket and practice your Welsh.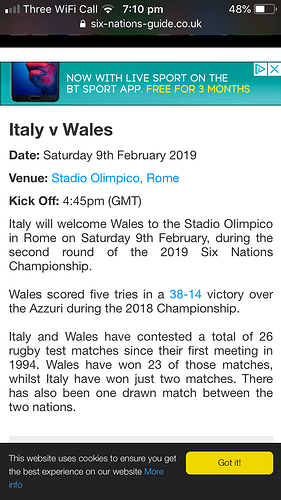 To tell you the truth, I've never felt much nationalistic pride in competitions of any kind. There was just a few years span as a child when in international football cups I was actually for…England or Liverpool because I was a Beatles fan!
But after that, I always picked a different favorite nation or athlete every time (sometimes odd ones or losers -like by the way my football team Torino). But not necessarily losers, as long as they're nice
I guess I might as well choose Wales for rugby!
However I enjoy and can relate to the feisty attitude and can relate to jumping in situations well above our skills - like rugby team in six nations!
I'm sure Italian rugby team is improving because it's been getting more popular also because it seems less business and corruption oriented compared to present football.
But when I had a look at six nations history (and before) I noticed the only prizes Italy won was wooden spoon and whitewash.

A trip to Wales is actually cheaper than going to Rome and to the rugby match!


So I think I'll stick to previous plan

Wow!!!
It is at the moment. If the ruling government get their way the UK will resemble north Korea soon ha.
Yah, but if you'd go in July/August and circeling around the Principality Stadium (possibly in the afternoon/evening, just like I did), you'll find out it's prety deserted area (or they all hide when I arrived to avoid me
) because there are no rugby games at that time. Even Welsh dragon went to the holidays at that time I imagine.

Well, I do every time our athletes are doing well might be because we're tiny nation with tiny country so many times the results are amazing for the fact how tiny population of athletes we have in particular sport.
Rugby is only truely awakening in our country aswell but we're really very far away from playing with the giants like Wales, England, Ireland and them alike. The dreams don't go as far as to playing with Italy either (except my dreams are extended to playing with Wales
), not even a friendly match. Can you imagine Wales comes to Slovenia to play and there game is at our biggest "all purpose" stadium Stožice which accepts 12, 000 people and it'd be half empty. Embarrassement to the bits. (and don't ask me which flag would I wave with … probably standing in the middle waving with both I presume and cheering "BRAVO!" every time either side scores a try or penalty points …
)
My previous plan is actually going to Wales in winter, to try and speak Welsh with real people in 3D.


I'm sure it's a good season also to meet the dragon - to whom I'd really love to have a chance to say "Nos da, draig", which is the only sentence I remember from my one or two weeks of Duolingo Welsh!


It's probably also a good season to go to the Stadium, but that wasn't really in my list of sightseeings…
Naaaaa!
(note: we would actually say/write "naaaa" in Italian in this context, but it seems Welsh too!)
I hope not. But we're not doing so much better in Italy - apart from the fact we haven't had our own Brexit-like referendum…yet! Owww!
Yes, I love using "na" in English, now. As it was a word that as children in NE England, we were not allowed to use, even though/because it was a genuine dialect word.
Also, I hear some English speaking (di-Cymraeg?) Welsh people using "na", which is reit cwl.
I use na in Welsh all the time, so much that I forgot about Nadw, Nagydw etc … Na is my favourite.
About avoiding me … it was not neccessary as all were on holidays but if one occassionally looked down the window they probably thought "what the heck is this odd woman doing down there?"