Hi Aran, is your book out in print yet?
Do you mean "Some Sex and a Hill"?
That's been out in print for quite a while, and is given a little mention in each weekly newsletter, along with Amazon links in US and UK for those who want to buy it from there.
Hi Chris! Yup, what Philip said…

Helo Aran, dwi wedi brynu dy llyfr di rwan. Dwi'n ei mwynhau yn fawr iawn. Mae'n wych ac yn ddifyr iawn. Gyda llaw, dyma llun (gobeithio) o fi ac fy missus i (dymunaf! lol) at yr Eisteddfod Ynys Mon efo fi yn wisgo fy grys T 'SaysomethinginWelsh'.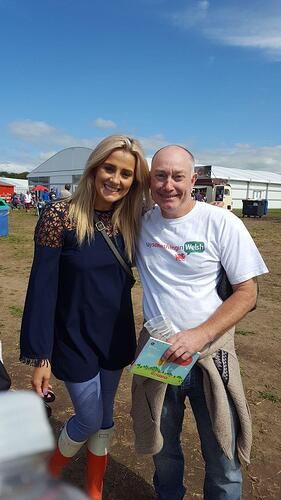 Sorry we didn't see you there!

Great shot - @gruntius will be jealous…

I am, but I'm lucky to have met her before a couple of times. Very humble and happy to chat.